By now you know I love history, especially when it comes to Chattanooga broadcasting.  These days, when I discover a great old photograph I have mixed emotions: first, I'm thrilled to find it!  Then, I'm sad that I didn't find it in time to include it in my book, "Chattanooga Radio and Television."  I'm proud of the 200-plus photos that are in it, but since then people have sent me hundreds more I wish I could have included.
Here's one of those photos:  it's a 1951 Kiwanis charity softball game featuring the most well-known Chattanooga radio disc jockeys of the day: (you can click on it to enlarge)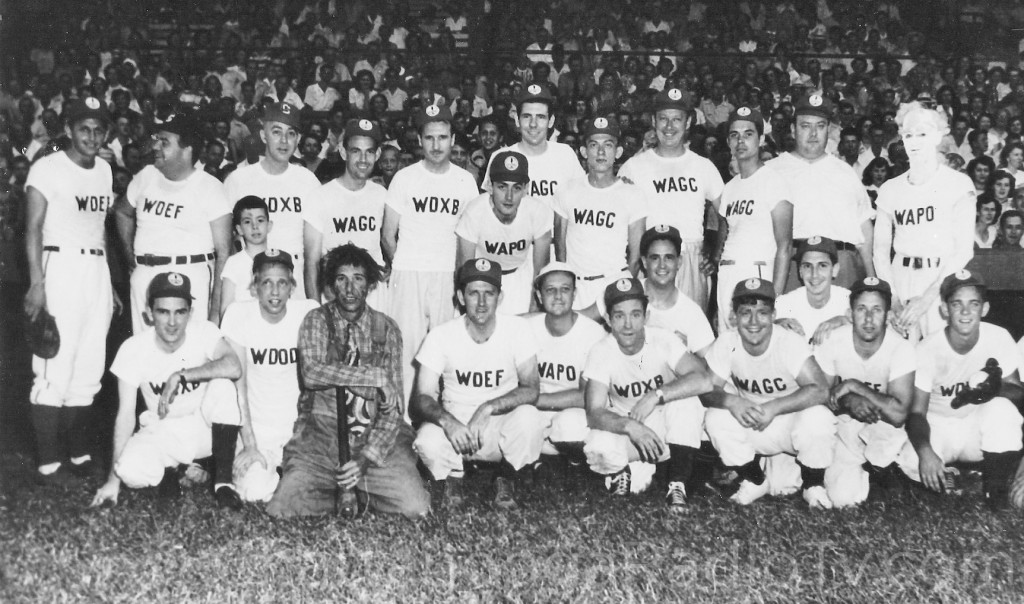 Standing, left to right: Luther Masingill (WDEF), Paul Wann (WDEF), Tom Nobles (WDXB), Al Parson (WAGC), Luke Wilson (WDXB), "unknown" from WAPO crouched over, Roy Morris (WAGC), Chris Erhardt (WAGC), Harry Thornton "The Milkman" (WAGC), Rome Benedict (WAGC), and Bobo Anthony (not sure about his station, and I don't know who the ghostly-looking WAPO person is on the far right.
Kneeling, left to right:  Ray Hobbs (WDXB), Spooks Beckman (WDOD), Cousin Clem (I forgot which station, but I'll find out…he was on in the mornings), Ernie Feagans (WDEF), Dan Skelton (WAPO), Red Brown (WDXB), Gus Chamberlain (Lookouts announcer, various stations), Pete ? (WAGC), Hal ? (WAGC), Clyde Robinson (WDEF), Gene Lewis (WDEF).
In case you missed it, I have a great 1939 Lookouts opening day video here on my YouTube channel.  It's a treasure too.