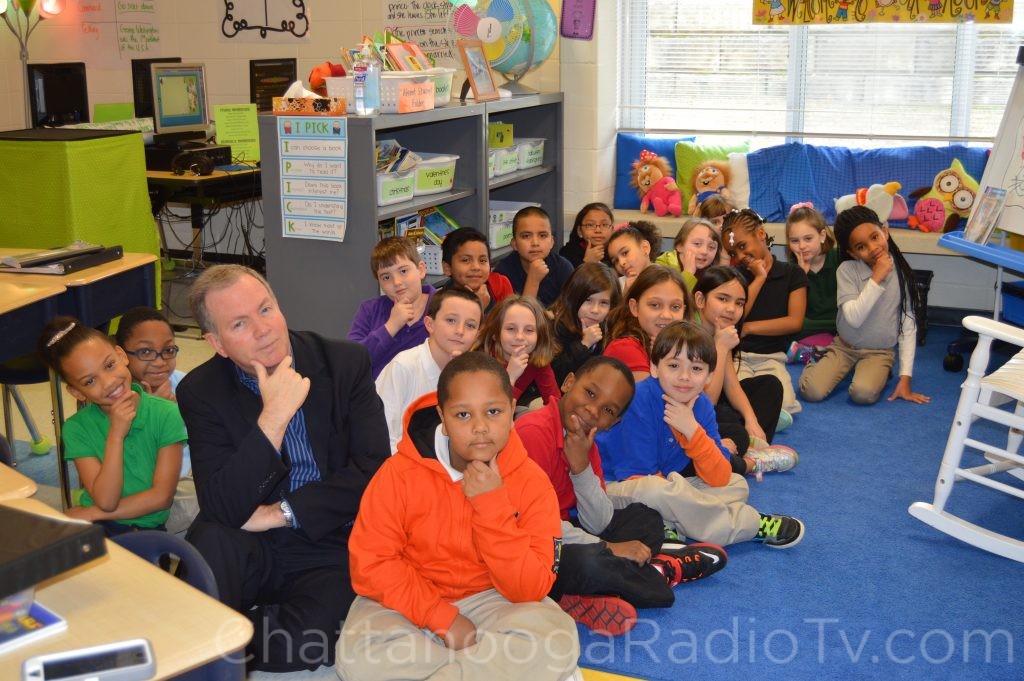 First, a classic teacher joke.  The kindergarten children brought presents for their teacher, Mrs. Jones.
Brandon handed Mrs. Jones a gift.  The teacher knew Brandon's father was a florist.  She held up the box and said, "Oh, you got me some flowers!"
"That's right!" shouted Brandon.
Then Nicole handed Mrs. Jones a gift.   The teacher knew Nicole's mother owned a candy store.  She held up the box and said, "Oh, I just know it's some chocolates!"
"That's right!" squealed Nicole.
The next gift was from Andy.  The teacher knew Andy's father owned a liquor store.  Mrs. Jones held up the box and saw a wet spot.  It was leaking, just a little.  She touched a drop with her finger and tasted it.
"Mmmm, is it fine wine?" she asked.
"No ma'am," Andy answered.  Mrs. Jones touched another drop to her tongue.
"Well then it must be champagne, right Andy?" she asked.
"No ma'am," Andy replied.
"Well then,  I give up.  What is it?" she said.
He grinned from ear to ear and said, "It's a puppy!"
That brings us to my favorite recent Facebook posts, from actual students and parents.  You can't make this stuff up:
First, "You asked if schools should teach cursive writing.  My children have already learned too many cursive words from those movies we get at RedBox."
Then, there's this one: "You keep saying bullies pray on smaller children.  I didn't think they allowed that in school."
Also: "Who cares about this stupid dress code anyway.  Next year I'll be in collage."
A snow day post: "Why are they making us go to school tomoro? It don't make any since."
Another snow day post: "The news said schools was closed in clement weather. What does that even mean?"
One parent weighed in the day after the snow had melted: "You say Hamilton County schools will be on regular schedule Monday. But what is the time they will be open?"
Another parent asked, "Why do the schools keep buying computers? I think it is a waist of tax money."
I love visiting elementary schools.  If you want a huge dose of honesty, just talk to first and second graders.
I visited a second-grade class recently, and as I started talking to the kids, I thought I'd try to make them laugh.  So I looked around the room, inhaled the air, waved my arms and said, "What a great classroom!  It smells like EDUCATION in here!"  I barely got it out of my mouth when a little boy raised his hand and said, "No sir, that's Lysol.  Miss Kathy wiped down everything before you came in."
When I visited the second-graders at my old school in Alabama, it was a real treat. I told them that I, too, was once in second grade, just like they were. One girl looked at me with those wide eyes and exclaimed, "I can only imagine what your village was like."
I got more specific with them, and told them I had been a second-grader in that very same classroom, surrounded by those very same walls.  A little boy, quite seriously raised his hand, pointed at his twenty-something year-old teacher, and asked, "Was Miss Smith your teacher?" She was not amused.
I also visited an elementary school on a day when Miss Tennessee paid a visit, in full beauty-queen mode.  The tiara, the sash, big hair, lots of makeup and a tight outfit revealing a shapely figure.  After spending the better part of an hour talking about the evils of drugs and the importance of staying in school, she invited questions.  The kids were shy at first, so she said, "Go ahead, just ask me about whatever is on your mind."   A 3rd grade boy jumped up, raised his hand, and shouted, "Are you a Kardashian?"
Dr. Tee Carr's book "School Bells and Inkwells" includes some classic excuses from home, like this one: "Dear Teacher, my son is under a doctor's care, and should not take P.E. class.  Please execute him."
And the late Jackie Elkins, a longtime Chattanooga teacher, contributed this one.  Many elementary teachers can relate: "My students' lunch period had ended, and as usual, there sat my two regulars who never finished lunch in the allotted time.  Each day as their classmates were returning trays and getting in line, these two had figured out to the exact number of seconds how they could be last in line.
On this day, one of them seemed to be rushing to finish lunch. As we were about to leave the cafeteria, I spotted a wet object in his back pocket. I motioned to his pocket, and asked what it was. "Its' my fudgesicle," he replied. "What are you planning to do with it?" I asked. "Oh," he said with great assurance, "I'm saving it to eat later at recess."