For whatever reason, we hold our sports heroes to a high personal standard.  They're only human, yet their God-given athletic talents make them seem other-worldly.  Tiger Woods dominated golf like no other.  When his personal life came crashing down, there was widespread disbelief: "But he has everything!" we said.  "Why would he cheat on his wife, or get caught for DUI?"
When an everyday college student fails a sobriety test, we rarely hear about it.  But if the star running back commits a similar offense, it's headline news.
Some will say this is unfair, but it comes with the territory.  If you accept an athletic scholarship, there are strings attached.  In addition to the potential for a lucrative pro career, there is considerable scrutiny.  Like the saying goes, if you don't want to take that ride, don't buy the ticket.
Unfortunately, not every star athlete is ready for the attention that comes with high-profile sports.  Many were coddled and protected during their teen years, with their transgressions often overlooked by supportive coaches.  This is why some budding superstars are unprepared when they get that first big contract, with more money in one paycheck than they've ever seen in their lives.  That's why I recommend every high school sports star read the story of someone who's been there, and learned from his mistakes.
Ask any Atlanta Braves fan, "Who's number 10?" and they'll quickly answer, "Chipper Jones!" Larry Wayne "Chipper" Jones was an All-Star third baseman.  He's one of those rare guys who spent his entire career (1993 to 2012) with the same team, and is a surefire first-ballot Baseball Hall of Famer.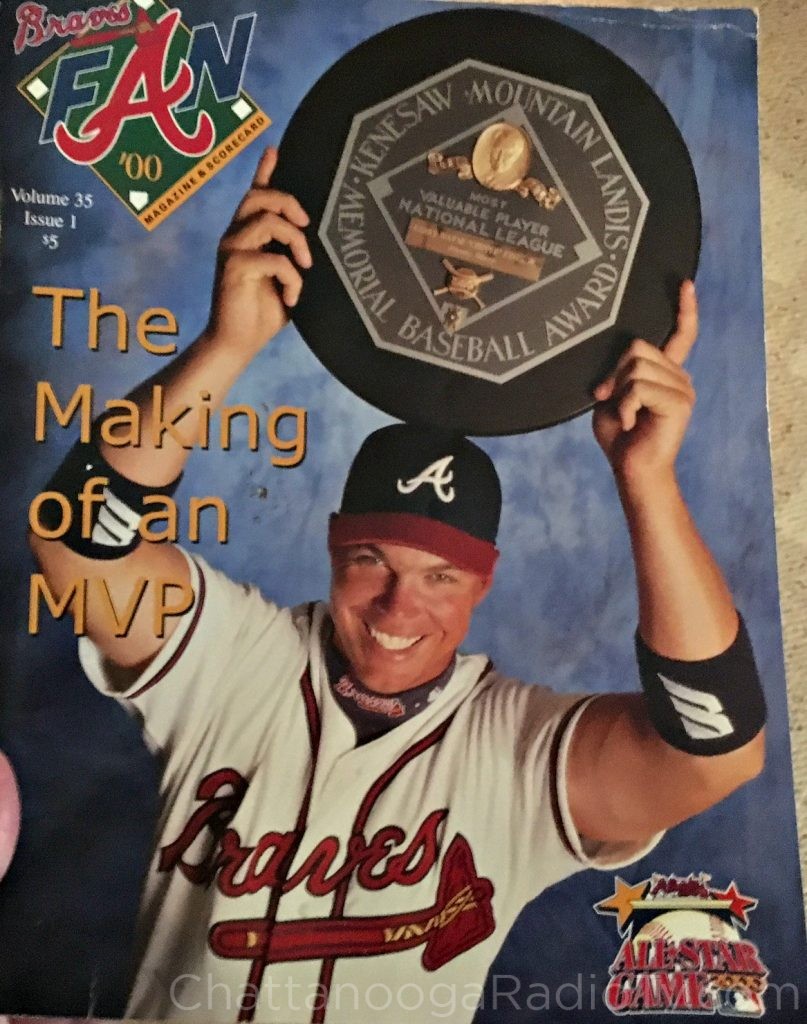 As good as Chipper was on the baseball diamond, he made his share of mistakes off the field.  In his new book "Ballplayer," and in a recent column written for the Players Tribune website, Chipper comes clean, writing "A Letter to My Younger Self."
Now 44, Chipper looks back on his life beginning at the age of 18, when as he put it, "everything has been pretty easy."  As soon as the Braves wrote that first check, he spent it on a Corvette.  He considers that the first of many mistakes.  As confident as he was on the baseball field, he was insecure in his personal life, and used his newfound fortune on worldly pleasures.
Today Chipper tells his younger self, "Success won't always come easy, and sometimes your drive to be the best is going to push you right up to the edge of complete disaster." He admits to getting married too early, then not being able to cope with financial problems.  Yes, a big-league ballplayer, making six figures in his early twenties, finds himself with an empty refrigerator and no money in his bank account.  He admits to giving in to the temptations of "the lifestyle of a big-time athlete."
While 50,000 fans were cheering his every move at Turner Field, "I had already ruined one marriage, helped to ruin a second, had four kids, and was two divorces in." Occasionally, his mistakes were magnified in newspaper headlines.  His extra-marital relationship with a Hooter's waitress was leaked to the media, and fans of opposing teams would heckle him relentlessly.
Yes, he's Chipper Jones, the idol of young tomahawk-chopping baseball fans.  But he also has a mother and father who hear the rumors and read the sensational headlines.  As Chipper writes, "To see the disappointment in the eyes of the people who love you is rough." He eventually confessed all to his parents.  He told them about "the infidelities and mistakes, and the lies stacked on top of lies."  It was the toughest conversation he ever had.
He was unable to talk to his parents in person about it.  He called them on the phone, with each listening in.  He told them everything, with no sugar-coating. "I owed them that," he said.
His father was speechless.  His mother paused and said the six words he would remember for the rest of his life. "We raised you better than that."
After "tearing into him" for a few minutes, they assured him that despite everything, they still loved him, and he had their support. They told him that the mistakes we make eventually mold us into the person we become. They said that sometimes you make a bunch of mistakes before you get things straightened out.
Chipper would go on to make more mistakes, but he also made some good decisions, enabling him to become "the husband and father my family has always deserved."
The fact that he is sharing his story, in hopes of preventing other kids from repeating his mistakes, proves his parents did a good job after all.  They raised him better than that.  For some of us, it just takes a little longer to realize it.