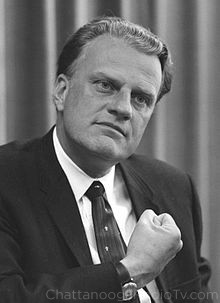 It was September 24, 1991.  Rev. Billy Graham visited Chattanooga's Baylor School to dedicate the new Alumni Chapel.  He arrived by helicopter, on a rainy day with students lining Baylor's parking lot.  He only had about 15 minutes to preach.  He was introduced by Rev. Ben Haden, with music provided by Dr. Glenn Draper and the Chattanooga Singers.
Graham's message was aimed primarily at teens.  "Sex outside of marriage is wrong, and you know that," he said. "And it's becoming very dangerous."
A couple of times during his message, he mistakenly referred to being at "McCallie School" instead of Baylor.  The mention of the rival school elicited a few groans from the Baylor audience, but his error was understandable.  He was close friends with the McCallie family, who had helped arrange his visit.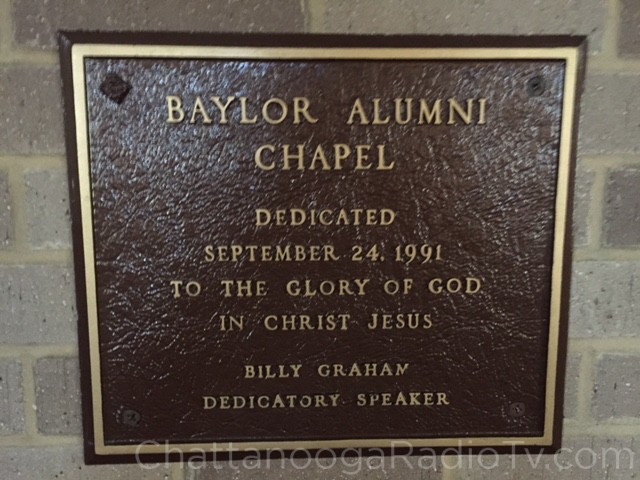 After the chapel program and a lunch with local dignitaries,  a select group of Baylor patrons enjoyed an autograph and photo session, before he was whisked away in a waiting helicopter.  He had just flown in from New York, and was due in France the next day.
This was not Graham's first visit to Chattanooga.  In 1950, he preached at Engel Stadium.  In 1953, he made history at the Warner Park Fieldhouse.  His crusades had long been segregated, but he had decided to end that practice.  According to Earl Freudenberg, Graham personally moved the rope, allowing all races to join together.  "It made one usher very upset," Freudenberg said, "but it needed to happen, and that's a big part of the history of Billy Graham."
As Graham told his Baylor audience, "I just determined this is how it was going to be. I never again spoke to a segregated crowd."
Although Billy Graham was able to personally meet only a fraction of his Chattanooga area followers, those who were in attendance at Baylor that day say they'll never forget his passion, his charisma, and his inspiring message.  Here is the video of Graham's Baylor visit, courtesy of Scotty Williams.