When wrestling great Jackie Fargo died, I wrote a tribute, and got some great responses from folks around the nation who fondly remembered The Fabulous One.  Jackie and his fellow wrestlers had a huge following in the 3-channel universe of the 1960s, when Harry Thornton's weekly wrestling show was must-see TV in Chattanooga, along with the sold-out shows at Memorial Auditorium.
I mentioned in that story that I never got to meet Jackie.  But while I was fumbling through my memorabilia boxes looking for something else, I found a fairly well-preserved Chattanooga wrestling autograph book that Thornton published and distributed in the 1960s.  It turns out that sometime during my wrestling-obsessed childhood, I met Jackie and got his autograph.  How could I have forgotten that?
I have also told thousands of people another false story.  During my 100-plus presentations to churches and clubs about my local radio-TV photo history book, people have often asked if I ever met Harry Thornton, whose Morning Show I eventually hosted on WDEF after his death.  For decades, I have maintained that I never met Harry.  Around the time of his retirement, I wanted to interview him for my radio show, but we were never able to link up.  I think he figured I was a smart-aleck disc jockey who wanted to "rip" him, in his words.  That wasn't my intention, but I guess he'd been ripped one time too many.  Looking through the autograph book though, there it is in black and white: Harry Thornton's autograph.  I was probably 7 or 8 when I met him, but obviously I did.
In communicating with several wrestling fans after my Jackie Fargo story, I learned a lot about my childhood obsession.  As mentioned in my previous story, many of the wrestlers were not who they claimed to be.  While some used their real names, many were acting out a role, even going so far as to pretend to be German or Japanese so they could assume a villainous persona.  I used to have great sympathy for guys who seemed to come on TV each week, and lose every single match.  An older guy billed as "Rowdy Red Roberts" comes to mind.  If he was wrestling in the TV show opening match, he would find a way to lose.  It turns out these guys were called "jobbers" in the wrestling trade, and their job was to make the other guy look good.  The other guy was usually younger, fitter, and with more charisma.  He would build up enough "wins" to eventually become a headliner.  Thanks to the hard-luck, often out-of-shape jobber, the show could go on.
I also remember a soft-spoken gentleman named Norman Veazey who served as Thornton's ring announcer.  I remember going to some smaller matches, maybe in Trenton, Georgia where Veazey assumed Thornton's role, sort of running the whole operation.  I never knew much about Veazey, but I've learned he was a minor league baseball player and manager in the Washington Senators organization, even playing in Chattanooga in the 1940s.  Evidently that's where he met Thornton, who was doing morning radio and sports for WAGC radio.  Veazey became Thornton's "road agent," a term for the guy who traveled with the wrestlers, making sure everyone behaved, did their jobs, and got paid.  I wish I had a picture of Norman Veazey, but I can't find one anywhere.
I do however, have a photo, and autographs from the Scuffin' Hillbillies.  Willie, Slim and Cousin Alfred cashed in on the Beverly Hillbillies craze of the 1960s, traveling from town to town in their overalls, toting their moonshine jugs.  It was a novelty act for sure, and they sauntered in and out of Chattanooga a couple of times a year to liven things up.  They were fan favorites to say the least.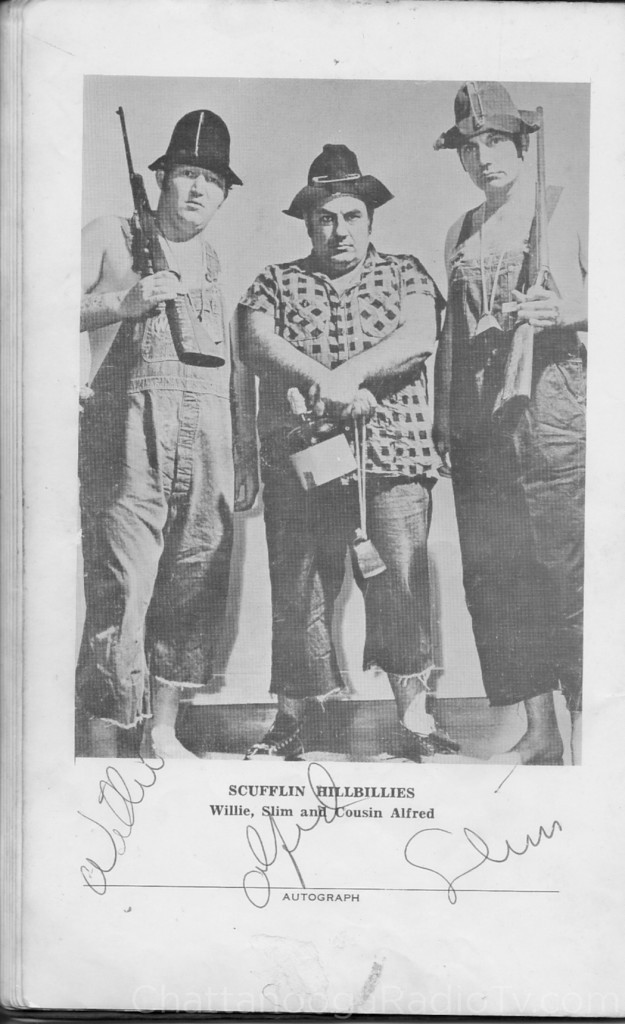 My final photo from the wrestling autograph book is unsigned.  Although I'm pretty sure I saw Tojo Yamamoto (real name Harold Watanabe, Hawaiian, not Japanese) wrestle live somewhere, I was probably afraid to go up and ask for his autograph, in fear of him hitting me with one of his wooden shoes.  After all, he did that to Jackie Fargo all the time.  Still, he was a good athlete and an outstanding pro wrestler, doing his job well.  He got the crowd stirred up.  I will always remember the face of a regular audience member, a middle-aged woman who was ringside for every TV match at Channel 12.  She would always try to hit Tojo with her purse, and she yelled louder than anyone else in the audience.  I don't have a photo of her, but her face is indelibly etched in my mind.  "Tojo"(standing in the photo below) and most of the other wrestling stars of the 1960s are long gone, only a few remain.  But Fargo's recent death sure ignited a lot of memories of live TV, hero worship and lots of rolling around on the playground, playing the roles of grown men, who were quite often doing a great job of role-playing themselves.