In my job, I meet a lot of public officials.  Over the past few decades, as I check my memory bank, I realize I have put them into three categories.
At the low end, there are a number of public officials who did not leave a lasting impression. They showed up for meetings, had lunch, and cashed their checks.  Sometimes, I questioned their motives.  Why enter the public arena if you don't intend to make a difference?
In the middle, is the largest group.  They did a commendable, if not exceptional job of serving the public.  They stayed out of trouble, had good intentions, and gave it their best shot.  At least they tried.  I admire them for their efforts.
I reserve my highest salute for those who went above and beyond.  They dared to change the status quo.  They made decisions not based on the next election, but instead on what they believed to be best for their community.  They responded to every interview request, and they answered the media's questions (and the public's) as honestly as they could.  As you might expect, this group is the smallest of my three categories.
So as Chattanooga Police Chief Fred Fletcher leaves his post after a busy three-year stint, I'm honored to include him on the "A-1" list.  He would be the first to admit that his batting average wasn't perfect, but at least he took some heroic swings.  If it was raining outside, he wouldn't try to "spin" you into believing it was sunny.
Fletcher wrote a farewell to his officers, and I want to share a portion of it with you.  You are about to read the words of a man of character.
For a police officer, boots are an intimate friend, one of our most particular pieces of gear. The ones pictured here have supported me for a decade.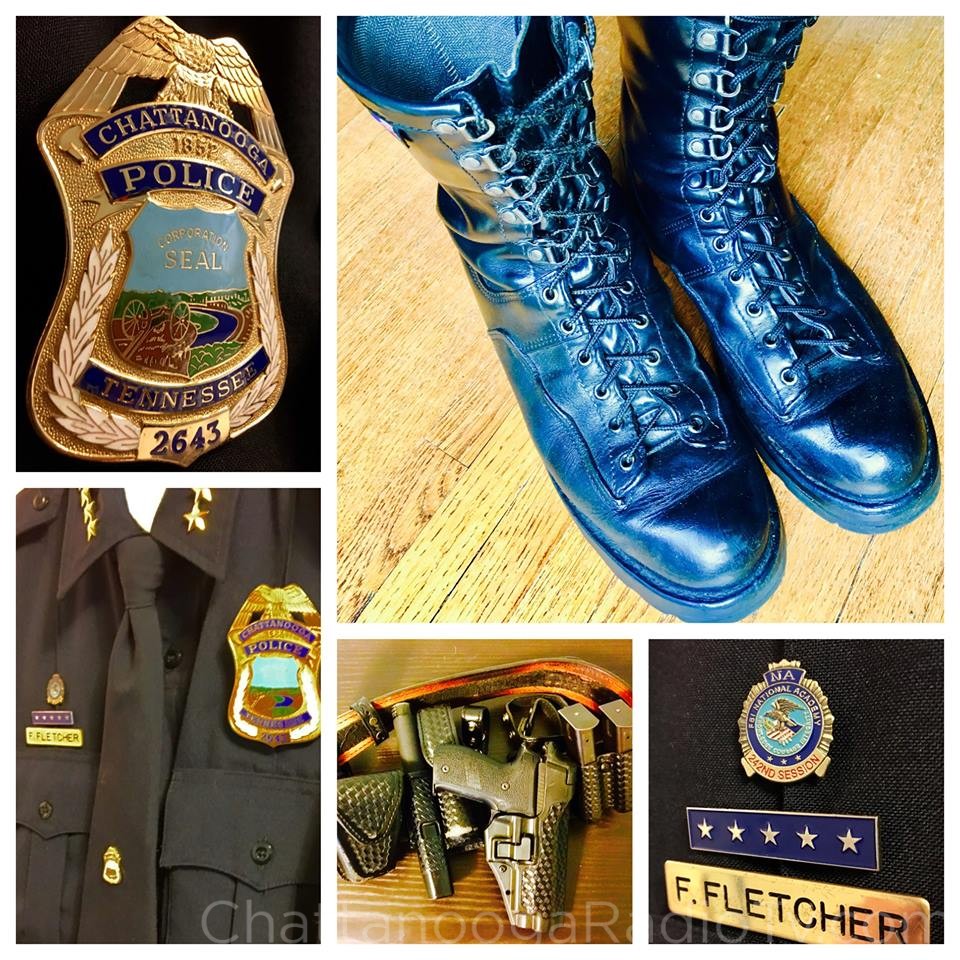 They have been re-soled three times. If you look closely you can see a scar on the toe of one where I dragged it across jagged metal on a scene that was still reeling from violence. These boots have held me firm in the face of direct assaults against my person and during heart-wrenching decisions to send officers into harm's way when I'd rather go myself. They have supported me on scenes of unfathomable violence and carnage when it was more difficult to stand than I care to admit. They have walked considerably lighter at ceremonies celebrating heroics and successes. They have carried me for mile after mile through the communities I have been privileged to serve and protect. This week I have likely laced them up as a police officer for the last time.
Recently, one of our Commanders read to our entire Command Staff a passage by Ralph Waldo Emerson as a goodbye message to me. He may not have realized it but that passage is among my favorite pieces of literature. I am thankful to that Commander for his intuition because it surmises what I hope has transpired during my years of service. I have taken a few liberties abbreviating it to the parts I really hope have been true:
To laugh often and much; 
To find the best in others; 
To leave the world a bit better; 
To know even one life has breathed easier because you have lived.
I do not know if I have succeeded by those standards. I do not know many things for certain. I do know that any successes we have enjoyed have been due to the hard work and sacrifice of the men and women on the front lines every day. I know that any failures we have endured have been entirely my own. For the former, I am grateful and for the latter, I am regretful.
Below is a message I sent to the men and women I have been allowed to serve at the Chattanooga Police Department. They are as fine an assemblage of law enforcement professionals as I have ever known. I have watched them rush headlong into violence – with little regard for their own well-being – to stand in the gap between horror and our community. I have watched them save lives at great risk to their own. I have watched them hold hands with victims and survivors when there are no other actions or even words that will help. I have watched them sacrifice themselves, their families, and their own wellness so others could be safe and feel safe. I have watched them be Police Officers. I am proud to have been one of them. 
For most days during the last quarter century I have performed a ritual with which you are all very familiar.
I take my boots out of the closet, dust off the remnants of yesterday's tour and – if I am lucky enough to have the time – put a little polish on them and hit them with a brush. I pull a uniform shirt out of a plastic dry cleaner bag and – in the same order every time – pin on my collar insignia, my name tag, my ribbons and, last – always last – my badge.
After my shirt is prepared, I don the dark blue uniform pants and shirt representing the greatest profession in the world. I put on a wide leather belt that I cinch tight, too tight, because it is important to look fitter and trimmer that I probably am. Then I pull on the heavy Sam Browne duty belt and start snapping on keepers. For my entire career it has been four keepers: one on each side of my duty weapon, one in the middle of my back and one in front of my radio. I clear my duty weapon from my holster, ensure all is ready then I nest it back in the holster with that satisfying click. I turn on my radio to make sure the battery works and I am on the right channel.
Then, just before I turn to leave, I look in the mirror. Admit it. You do it, too. We all do it. We want to look good and we are proud to be cops. I know I am. Cops have always been my heroes. For the last three years I have had the honor to serve you all, the heroes of the Chattanooga Police Department. You have affirmed my belief in sacrifice and service, in something bigger than ourselves. I leave here believing the Chattanooga Police Department is among the very finest in the world. I know beyond a doubt its people are the very finest.
For all those reasons, that last glance in the mirror has lasted a bit longer recently. My gaze lingers on the Chattanooga Police Department patch on my sleeve and the beautiful Chattanooga Police Department badge on my chest. My chest swells a bit at the pride of wearing this uniform, our uniform. And I walk out the door proud to be a Chattanooga Police Officer. The formality of that designation ends next week. Please know that from this day forward, whenever someone asks me what I did for a living I will answer with pride that I was a Chattanooga Police Officer.
Thank you each for what you do, what you are willing to do, and what you and your families sacrifice. Continue to hold our profession's and our department's values near. I know each of you will enjoy great successes. I look forward to following them from wherever my journeys take me.
Serving with you has been a true joy and the highlight of a long and rewarding career for which I am…
Eternally Grateful,
Fred Fletcher
Come back and visit often, Chief.  You will be missed.