This story was updated November 9, 2014, with news on John's amazing recovery.  To read the updated story, please click HERE
(Original story from April 30:)
"The journey of my life began in 1989 when I was born deaf. As a young child, I was always free spirited and never worried about a thing. Being hearing impaired meant that I was not faced with many of the daily struggles other children witnessed their parents going through."
The story of a life, in her own words.  Brittany Huber died in a car accident on April 28 south of Atlanta.  Brittany, 25, and her fiancee John Redman, 23, were en route to their wedding, scheduled for the following Saturday, May 3rd in south Alabama.  Both grew up in the Mobile area.  They met at Spring Hill College in Mobile, where John was a student basketball coach.  Brittany's brother was on the team.  Friends say the attraction was immediate.  Both knew they had found their soul mate. In June 2013, he proposed, and she said yes.
"I never let my disability hold me back. In fact, the older I became, the more I realized that being deaf is what has shaped me into the artist that I am today. By being deaf, my visual senses are heightened, and I have learned to become more aware of my surroundings."

Brittany studied finance at the University of South Alabama, but art was her passion.  Pottery, ceramics, painting.  She loved painting crosses.  One in particular, she wrote, seemed to be the most popular.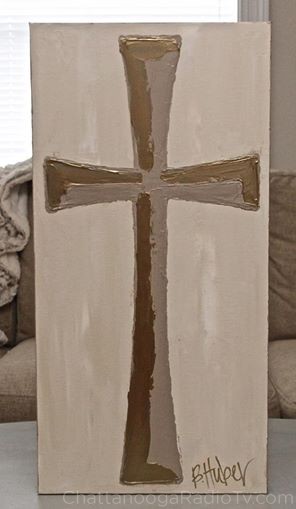 Meanwhile, six hours north, in Dalton, Georgia, something amazing was about to happen.  A hometown hero named Tony Ingle was starting a basketball program from scratch at Dalton State College.  The school hadn't suited up a team since 1978.  Ingle, who overcame humble beginnings and health setbacks to build a solid coaching career, needed an assistant.  A fellow coach told Ingle that the 22-year-old Redman had already proven to be a solid recruiter.  "All I had was four players, and six basketballs," Ingle said.  "But he was ready for a challenge, and so was I."
Redman made the move to Dalton, but made sure he didn't leave the love of his life behind in Mobile.  On August 31, 2013, he tweeted "Brittany was flying into Atlanta.  With a one-way ticket." She had no job, but was gearing up for a life as a "basketball wife," as she would often say.
"I observe and watch everything in sight carefully. It is through this careful observation of my surroundings that has allowed me to understand what is going on in everyday life. God created me this way because he wanted me to see how beautiful this world is with my eyes and to understand what others may tend to miss out on. To my friends and family, I am no different from anyone else; however, in reality deaf people live in an entirely different world that only we can understand."

By November of last year, Brittany had landed a job at City Park Elementary School in Dalton.  As a full time paraprofessional, she assisted kindergarten teachers with many tasks, offering one-on-one attention.  A good lip-reader, Brittany's talents were such, that few students were aware of her deafness.
Just down the road, her fiance and his head coach were making sports history.  The Dalton State Roadrunners, under the leadership of Ingle and his youthful assistant, enjoyed an amazing inaugural season.  The team finished 26-4 (three baskets from 29-1, according to Ingle), better than any first-year team in NAIA history.  "I couldn't have done it without John," Ingle said.
Last weekend, Ingle and his wife hosted a wedding shower for the young couple.  "My wife loved Brittany," he said. "Just a beautiful girl.  They were totally in love.  I just looked at 'em, and told my wife, they'll be together forever.  John would ask me about wedding stuff.  'She's the girl of my dreams,' he'd say.  'How should I handle this wedding?' I'd tell him, 'You do whatever she wants.' I'd hear him agree with her on just about everything, and I'd tell him, 'Now you're catching on!' We would laugh a lot, every day.  Sometimes he's like a son to me, sometimes he's like a little brother."
According to the Georgia State Patrol, the two were in a 2008 Lexus on I-85 South in Meriwether County, Georgia.  At about 7:15 p.m., John lost control of the car, veering into the grass median, before striking a concrete bridge support on the passenger side.  Brittany was pronounced dead on the scene.
Traffic investigators say the accident was not weather-related.  Some have speculated speed may have been a factor, but Ingle says there's no doubt that neither John nor Brittany were impaired.  "They don't drink anything stronger than Diet Mountain Dew," he said.  John's recovery, according to Ingle, "is a step by step process.  But he'll come through, he's a fighter.  He's Rocky and Rambo, rolled into one."
Reading their recent tweets after a tragic car accident seems almost intrusive. Yet their social media messages are filled with love, hope and optimism.   The day after Valentine's Day, John posted, "Little late but so thankful for (Brittany) & everything she does for me and our family. I love you."  A few days earlier, Brittany tweeted, "Exactly 3 months from today I get to marry John Coyle Redman!"
Now, two families are in various stages of shock.  Both had such big plans for this weekend. One family is in an intensive care unit, praying for a son's recovery.  The other, the proud family of a beautiful bride-to-be, makes the sad, sudden transition from planning a wedding, to making funeral arrangements. In the blink of an eye: from joyful anticipation, to unimaginable sorrow.
Coach Tony Ingle, eternally upbeat, tries to stay positive.  It's what he preaches, and practices. "God wants us to be happy," he said.  He admits it hasn't been easy this week.  "Last Friday we welcomed a new granddaughter into the world.  And now, here I am talking to Brittany's dad, who has lost this child he adored, the apple of his eye.  I'm not able to finish the conversation.  We don't have all the answers, but it's part of life.  We must have faith."
At Spring Hill Baptist Church in Mobile, Alabama, where the couple was to be wed last Saturday, Brittany's funeral was held on Friday.