What if you turned on your radio today, and heard this announcement:  "Coming Saturday to Memorial Auditorium! See the hottest acts in the world, all performing their hits LIVE on stage!  Katy Perry!  Mumford and Sons!  Maroon 5!  Blake Shelton!  Bruno Mars!  One Direction!  TWO great shows, this Saturday, at 5 and 8 p.m.!  Tickets are on sale now for $20!"
That is so ridiculous, right?  I mean, ticket prices for any of those acts, if they ever bothered to come to Chattanooga would be astronomical.  Plus, there's no way any one of them would share the stage with any of the others.  Too many egos involved, who would open the show?  Who would close?  And their styles of music are so different.  Any promoter would be crazy to put them on the same bill.  Besides, no music fan could possibly like them all.  That Shelton guy is too country.  One Direction is just for teenyboppers.  It simply would not work.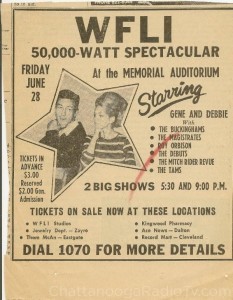 Yet in the 1960s, it did work.  Ask any baby boomer who grew up in Chattanooga about the Jet-FLI Spectaculars, and they will tell you some stories, outrageous stories.  On any given night, more than half of the acts in Billboard's Top Ten would be in our little town, on the same stage, one right after another.  Tickets ranged from $2.50 to $3.50.
If you missed Paul Revere and the Raiders this year, they just might be back next year.  Same goes for Herman's Hermits and other repeat visitors.  Here's the story behind the most amazing series of live performances ever staged in Chattanooga, before or since.
I've written before about WFLI, the powerful AM Top 40 station that signed on from its humble Tiftonia studio in 1961, and how it immediately changed the local radio landscape.  Its strong signal captured most of the young adult audience almost overnight, and got even stronger when the British Invasion took hold a few years later.  WFLI was among a group of stations owned in part by the Brennan family of Alabama.  Their others were in Birmingham, Montgomery, and Jacksonville, Florida.  The Brennans pooled their resources to create multi-star shows twice a year at each station, making it convenient for the artists.  For example, they'd schedule shows Friday in Chattanooga, Saturday in Birmingham and Sunday in Montgomery, so the artists had an easier flight schedule.
Ticket prices were low, according to WFLI's first general manager Johnny Eagle, to allow as many people as possible to come.  "It wasn't meant to be a money-maker," he said. "Our owner Billy Benns just wanted to promote the radio station, and boy did it ever work!"  The first Spectacular was staged on March 19, 1965, and for the next six years, the twice-yearly shows were enormously popular.  Listeners anxiously awaited the announcements of the lineups for the summer and winter shows.  The deejays would promote about five acts for a few weeks, and then just before the show, a "surprise special guest" would be added.  With great fanfare, they would tell us that Johnny Rivers or Andy Kim or some other big name "has just been added…you'd better get your tickets now!"
Incredibly, in that pre-internet era, ticket sales were handled literally by hand, by the WFLI staff.  People sent cash in self-addressed, stamped envelopes, or drove to the studio to get them in person.  "We handled everything, from setting up the sound, hiring the security, making travel arrangements, and getting the stars to and from the airport," Eagle said.  Peter Noone and Herman's Hermits got here three days early in the summer of 1967, and we put them up in the Downtowner Motel, across from the Read House.  They had a great time water skiing at Lake Chickamauga."
It didn't always go smoothly.  A few days before a heavily promoted show, Eagle heard about some confusion on the part of Paul Revere and the Raiders.  They had the number-one song in the nation, and were outselling the Beatles.  But the Raiders had mistakenly booked two shows in Atlanta on the same day as the WFLI shows.  "We freaked out," Eagle said. "Nobody wanted to go on stage and tell five thousand screaming kids that the Raiders were not going to play.  We arranged for our co-owner Bill Brennan, down in Birmingham to take his private jet to Atlanta, pick up the Raiders after their 3:00 show, get them to Chattanooga in time to open our 5:30 show, fly them back to Atlanta to open their 8:00 show, and then fly them back here to close our 9:00 show.  We paid police escorts to get them to and from the airport twice, and hired a crew to haul Paul's organ on and off the stage, every time."
If that wasn't enough, Eagle said, "One of the other groups threw a fit that night.  They thought they were the headliners, and insisted on closing the second show.  We told them the Raiders would be arriving late, and they would have to be the last act.  The other group argued with us all evening, threatening not to go on.  Nobody follows us, they said.  We had to stall for time, sending some deejays out at intermission to tell the crowd we were having technical difficulties.  Actually it was just those guys being a giant pain in the (butt)!"  Eventually they gave in, upon learning they wouldn't get paid if they didn't play.
The falsetto-voiced Lou Christie ("Lightning Strikes") was a local favorite who caused a different kind of problem.  "He turned the gals on.  He would rip off his shirt, but that was considered racy back then.  It would get the girls too excited.  He did it at the 5:30 show, and the police told us if he did it again at 9:00, we'd have to close the curtains."
On another occasion, Jerry Lee Lewis lived up to his bad-boy reputation.  "He hadn't had many hits in a long time, but he was still Jerry Lee.  He didn't want second billing to anyone.  We got Johnny Rivers, and he was a bigger name by then, so he was our headliner.  Jerry Lee would raise hell, just for the sake of raising hell."
Not every act caused a headache.  Eagle speaks fondly of Roy Orbison.  "He just stood there on stage, didn't say much and didn't move a muscle, but that boy could sing.  The girls loved his voice, and the guys loved his guitar playing."
Kenny Rogers was among the nicest stars.  "He carried his own equipment, he had no help, no ego.  With all those big stars in the lineup, it was hard to get anybody to open the show.  I'd go up to Kenny, kind of embarrassed, and ask him if he would be kind enough to open the show, and he'd say absolutely, whatever you need.  He had more hits than anybody, but he didn't act like it.  He couldn't have been any nicer.  It was no surprise to me that he went on to be more successful than any of them."
Rick Govan, known as "Ringo Van, the Music Man" during his radio days, worked at WFLI while attending the University of Chattanooga in the 60s.  He said, "I think back and realize how lucky I was to chat backstage with Lesley Gore, to drive Lou Christie to the airport with all those star-struck girls following us, and to see Jerry Lee Lewis throwing a tantrum.  Yes, wonderful memories indeed.  Sometimes I wish I could turn back the hands of time.  For a college kid, it was a wild ride.  Like the Troggs sang in their big hit Wild Thing, it was….groovy."
If you would like to share your memories of a Jet-FLI Spectacular, leave a comment!  If you have any memorabilia (autographs, photos, ticket stubs, etc.) I'd love to share those too.  My e-mail is 3dc@epbfi.com.