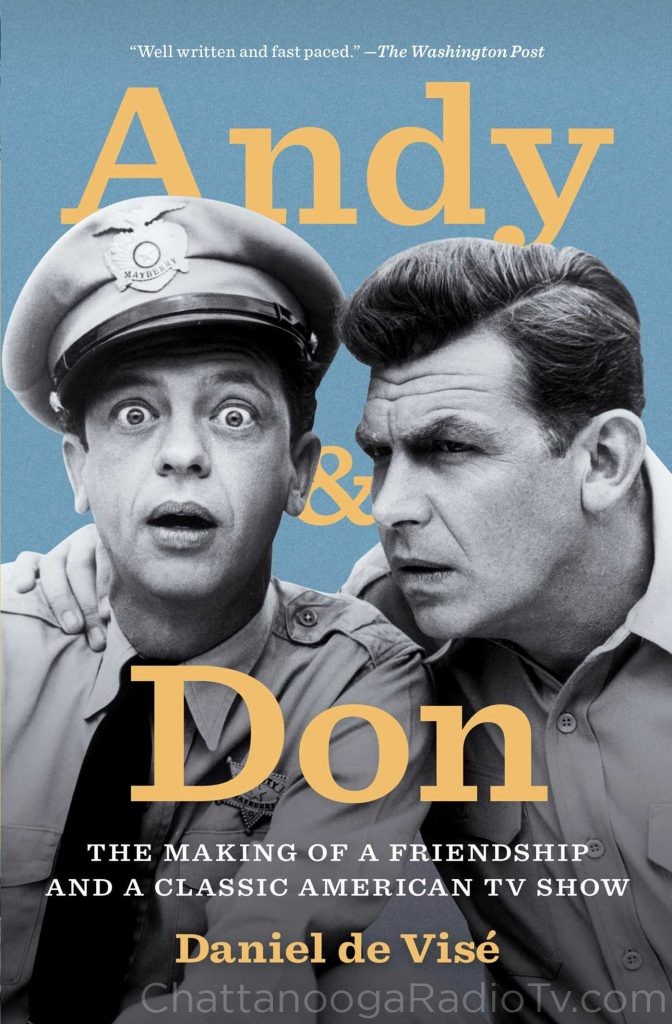 Ever since I was a child, "The Andy Griffith Show" has been on TV somewhere every day of my life.   Nowadays I can usually find entire episodes on YouTube. If I want to find the one with Opie and the birds, or the one where Barney tries to join the church choir, or the one with Aunt Bee's awful pickles, I can do it within a few seconds. On top of that, I have a few episodes on DVD around here somewhere.
Why are we still watching a show from the 1960s, that many of us know by heart? I mean, how many times can we laugh watching Gomer Pyle make a "citizen's array-est" on Barney Fife? I guess some things never get old.
Maybe that's why I was so fascinated by Daniel De Vise's recent book "Andy and Don," which documents the long partnership, on and off camera, of Andy Griffith and Don Knotts.   I thought I knew a lot about the actors, but I had only scratched the surface. Both were born in the 1920s, with Andy growing up in North Carolina, and Don in West Virginia.
I never got to meet Andy, although I interviewed him via satellite during his "Matlock" days in 1990.   That show, in which he played a crafty Atlanta-based lawyer, rescued his career, which had suffered since he stepped down from the Mayberry show in 1968. I had heard from a co-worker who had interviewed him in person that the real Andy Griffith was not like the kindly Sheriff Andy Taylor. He had warned me that Andy could be sullen and moody.
If that was true, I caught him on a good day. I asked him if it was hard to maintain the sunny image he had projected on his old sitcom, because everyone expected him to dispense wise advice with a toothy grin.   He admitted it wasn't always easy, saying, "Sometimes I just keep my head down." He expressed regrets he had never been to Chattanooga, recalling visits only to Nashville and Memphis. "I'll come down there one of these days," he said. Unfortunately, I don't think he ever did. (You can watch the interview on my YouTube channel).
I never got to meet Don Knotts either, although I did see him in a play called "Last of the Red Hot Lovers" in Chattanooga in the early 1990s. He appeared with another of my TV favorites, Barbara Eden. Both were a little old for the parts they played, but no one seemed to mind. It isn't every day you can see "Barney" and "Jeannie" on the same stage, live and in person.
Most "Andy Griffith Show" fans consider the first five years of the show to be classic TV. In 1965, Knotts left the show, black-and-white turned to color, and the shows just weren't as funny as before. Knotts would return from time to time, but he was busy making movies.   Without Barney, Sheriff Andy wasn't the same, on screen or off, a fact he would admit after the show left the air.   He and Don were truly friends, and each knew their partnership would never be equaled.
Those early Griffith shows have been studied in college classes, and have even been the subject of Sunday School lessons and sermons. According to author De Vise, the writers who were cranking out 39 episodes each year had no way of knowing the shows would be analyzed five decades later, with no end in sight. They were just trying to project their version of small-town America, make folks laugh, and sprinkle in a little kindness.
On many occasions, when I found it necessary to discipline my sons, I would sit back and ask myself, "What would Andy do?" He wasn't perfect, but it seemed like he usually had just the right message to share with Opie. Those of us who didn't have the benefit of Hollywood writers gladly borrowed from the Mayberry book of child rearing.
Without giving away too much of the book, which I highly recommend, let me just say this. I was comforted by the fact that these two country boys who met early in their careers, stayed close until the end.   Both lived into their 80s, and both were in ill health in their later years.
Don Knotts passed away in 2006, and his friend Andy was both a eulogist and a pallbearer at his funeral. Six years later, Andy Griffith passed away, shortly after making a farewell phone call to Jim Nabors, who he had discovered at a night club a half-century earlier.
I'd like to think that somewhere up in Heaven, ol' Barn has gotten himself in a jam, and Andy is getting him out of it. Because that's what friends do.