We've lost another of Chattanooga's great TV broadcast pioneers.  Gilbert Norwood Lusk, known professionally as Gil Norwood has passed away.  He was news director and news anchor for WTVC Channel 9 for almost 20 years, starting in the late 1950s as a staff announcer. When I first starting posting classic local TV pics on Facebook in 2009, his son Greg thanked me for including Gil in my Chattanooga Radio TV photo albums.  "I have very fond memories from my childhood of my dad's career at Channel 9, and have always wondered if his contribution to television in Chattanooga has been recognized," Greg wrote. "The picture of him in your album really made me feel proud, and I really appreciate you including it."
Norwood was a key contributor in Channel 9's early days. When the station signed on in 1958, it had a minor news presence, with Dick Swanson doing a 5 minute newscast.  No pictures, no film, just a man reading the news. A year later Norwood was hired to read commercials and do the top-of-the-hour live station ID's.  Although the station had local personalities like Bob Brandy and Marcia Kling hosting children's shows, it did not invest much in local news.  By 1961, Norwood read a five-minute newscast each evening at 6:55 p.m., while Channels 3 and 12 were doing full 15-minute newscasts at 6:30 and 11:00 nightly.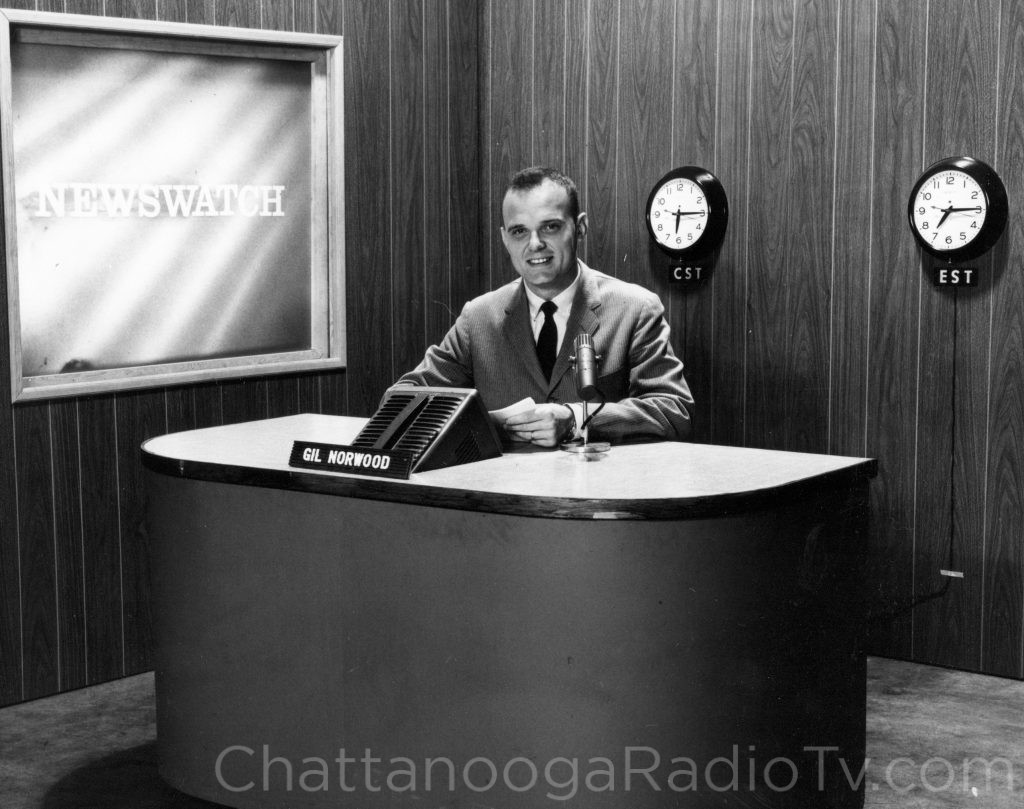 Channel 9 made the jump to 15 minutes in 1962, airing its local newscast at 6:15, trying to get the jump on the competition.  Still, Norwood was seriously outmanned by the other channels.  They had several fulltime reporters and news photographers, while at Channel 9, it was pretty much Norwood on his own for the first few years.
In 1963, Norwood was named news director, and after hiring Bill McAfee to handle weather and sports duties, he supervised a staff of one.  NBC and CBS began airing their network newscasts at 6:30 p.m., so Channels 3 and 12 moved their local newscasts up to 6:00 p.m.   Channel 9 was forced to make another move to avoid the fierce competition, so Norwood's 15-minute newscast was now broadcast at 7:15 p.m.  Still, his team was far outnumbered, and handicapped by ABC's weak showing against Walter Cronkite on CBS and the Huntley-Brinkley Report on NBC.

By late 1966, Channel 9's evening news (known as "Newswatch") went head-to-head against the other channels, airing at 6:00 p.m., and broadcasting from the station's new studio in the Golden Gateway downtown, next to Zayre department store and Shoney's restaurant.  In 1967, they followed a popular trend of that time, hiring a "weather girl" named Gaye Martin to compete with veteran forecasters John Gray and Harve Bradley on the other channels.
In 1968, Channel 9 began broadcasting in color, and moved its evening newscast again, this time to 5:30 p.m.  By the end of 1970, Norwood relinquished the anchor chair, but remained news director until the latter part of the decade.
Among his notable hires were Calvin Sneed, who was a reporter in 1972, and Jackie Schulten, who became the city's first female news reporter in 1973.  Norwood was also at the helm when Bob Johnson and Darrell Patterson were hired in 1975, setting the stage for the station's growth in news, which coincided with better days for ABC news as well.
When he left WTVC, he left broadcasting to take a public relations position in Chattanooga, before returning to his hometown of Knoxville. More recently, he took over the operation of a family business after his father's retirement.
Gil Norwood did a terrific job for twenty years keeping his station's news operation afloat, against all odds.  Had it been a level playing field, he might have been more of a household name.  I admire him for his perseverance and determination during all those years.  No doubt, he was doing the work of several people, and his efforts should not go unnoticed.
I never got to meet him, but his son Greg presented him with a copy of my book "Chattanooga Radio and Television" as a Christmas present a few years ago.  He sent me this nice message:
"I am very flattered you chose to include me in the book. Thank you!" 
It was my pleasure.