We have lost a larger-than-life local hero.  W. C. Hunter, who was bishop and pastor of Chattanooga's World's Church of the Living God (and overseer of several others throughout the Southeast) has passed away at the age of 80.  In June, he lost his wife of 64 years, Peggy, and soon afterward he faced some serious health issues.  Still, when I heard he had died, it was hard to believe.  Even when he was frail, he was stronger than ten men.
The first time I saw his name was back in the 1970s.  Someone gave me a copy of his book, "The Secrets to a Happy Marriage." I saved it, figuring I might need it some day.  Sure enough, it is full of good advice.
When I was hosting the Morning Show on Channel 12 in 1984, I got a phone call, as they say, out of the blue.  The 4th of July was coming up, and it was hard to get guests to come in that early on a summertime holiday.  On the other end of the phone was W. C. Hunter.  "Would you like for me to come on your show on the 4th of July with some barbecue, and my famous Lay Row Catch A Mellow sauce?"  Needless to say, I told him yes.  Thus began a friendship that enriched my life.
His barbecue segment was fantastic (and so was the food). As the show ended, he said, "Listen, if you know of any charities that could use some help, I'll do a city-wide barbecue, right in the middle of downtown, and give 'em all the proceeds."  I just happened to know of an organization in need.  Orange Grove Center, which serves intellectually disabled children and adults in Chattanooga, was facing severe budget cuts.  He toured the facility with me, and he fell in love with the young people there.
A few weeks later, we set up the barbecue operation in Miller Park, not knowing what to expect. We were overwhelmed.  It was a hot summer day, and the aroma engulfed downtown Chattanooga.  Every office worker in town must have shown up, and we were woefully unprepared.  The lines were long, and Rev. Hunter's troops were feverishly trying to catch up. Still, we raised a few thousand dollars for Orange Grove, and the following Monday he called and said, "Let's do it again.  This time we'll be ready for 'em!"  We did it several more times, raising tens of thousands for Orange Grove.
I have a blooper stashed away somewhere, and unfortunately, I can't find it at the moment. Until I do, you'll just have to take my word for it. We were shooting a promo for one of the Orange Grove barbecues.  Each of us was wearing a chef's hat, although only one of us was qualified to do so. Anyway, it should have been an easy, 30-second shoot, but one of us kept blowing our lines. It was me, the "TV professional."  After several failed takes, and a lot of laughs, he looked into the camera and said, "Now I know what them movie stars have to go through!" I pretended to remove the lid of the bottle of barbecue sauce I was holding, and started "chugging" it.  He unleashed that thunderous laugh of his.  He was a joy to be around.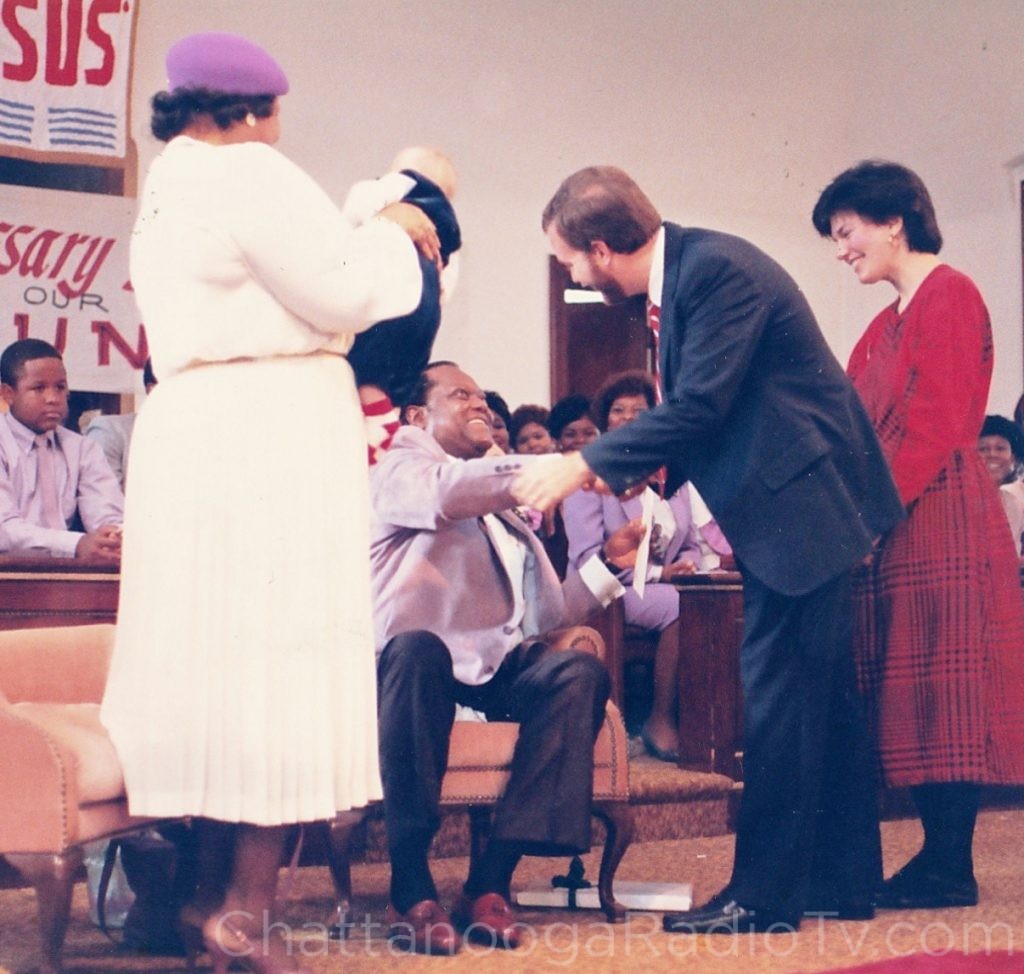 As the years and decades have flown by, we remained great friends.  If he saw something on the news about a family in need, he would call me and find out how he could help.  He never sought attention for this.  He did it quietly, behind the scenes.
My sons adored him.  From the time they were little, they were in awe of his speaking ability, and the incredibly talented singers and musicians in his church.  Not to mention the fact that his congregation truly enjoyed going to church, and being a part of the service.  I've said many times, I wish all churches displayed such joy and enthusiasm.  Attending his annual anniversary celebrations each December was a highlight of our year. (Click below for a 1984 barbecue sauce commercial: Pastor Hunter at his best)
Here's a blooper reel of a promo we tried to film in 1986.  I think I eventually got it right.
In 2011, I had just published my first book, and he heard about it on TV.  "Stop by my house one day," he said. "Bring me one, I'd like to read it."  One day on the way back from Cleveland, I called him and said, "I'm coming right by your exit, would today be a good time?" "Absolutely, come on by," he replied.
It was about 2:30 in the afternoon, and I figured I would drop in, hand him the book, give him a hug, and head on back to work.  No, that's not how it works when you visit W. C. Hunter.  "Sit down, I'm gonna make you a big bowl of banana pudding to take home."  I figured it might take a few minutes, but that was an offer I couldn't turn down.
About thirty minutes later, the pudding was ready, or so I thought.  He dipped a spoon into it, and tasted a sampling.  "Wait, this ain't no good, I forgot the tapioca!"  I told him I'm sure it was still delicious, but he wouldn't hear of it.  "Sit back down, I'm gonna get it right this time.  It ain't going home with you if it ain't right!"
As I nervously watched the clock, I wondered how my bosses would react if I showed up fifteen minutes late for the news.  "Where have you been?" they would ask.  "Uh, well, I was at Pastor Hunter's house, and he didn't make the pudding like he wanted it the first time, so…" Thankfully that conversation never took place.  I did cut it close, but I made it to work with a few minutes to spare, with a huge bowl of perfect banana pudding.  He knew good food, and if it came from his kitchen, it was perfect.
He was a big part of my life, and I sure will miss that smiling face, and that big laugh.  I'm a better person for knowing him, and I'm among many thousands who can say the same.  My parents started "courting" in that very same church building in the 1940s, when it was East Chattanooga Church of God.  Then and now, it was a special place, with the finest people I have been blessed to know.
In 2010, I was asked to speak at one of Bishop Hunter's anniversary celebrations.  Here is a text of what I said that day:
One of my favorite singers from my childhood was Bill Withers, who had "Ain't No Sunshine," "Lean On Me" and a lot of other great songs.  He also recorded a song called "Grandma's Hands" which isn't as well known, but it's equally great. 
I thought of that song when thinking of a way to thank, and to honor Pastor Hunter.  My wife and I were enjoying one of his great meals a while back and she said, "He sure has done a lot of good with his hands."  And that is so true.
He has big hands….and he needs them, because he has carried so many people with those hands during his time here on earth.
How many times has he looked you in the eyes, waving those hands, pointing those hands, giving direction with those hands?
Think of all the times he's used those hands to comfort people in pain, holding their hands, praying with them, consoling them, reassuring them, soothing them. "You're gonna be all right. You just need a helping hand."
Then there's the times he's used those hands a little more forcefully.  Sometimes he's used those hands to make a point, or issue a stern warning.  "You better get in line, young man, (or young lady)."  Sometimes those hands got the message across, along with a facial expression.  You've all seen that face.
How many times have you seen those big hands reach toward heaven when he sings?  Or when he claps those hands in rhythm with the music? By the way, I knew he was a great speaker for several years, but it wasn't until I visited this church that I heard him sing.  Man, he can sing.  But I'm supposed to be talking about his hands right now…so I'll get back on subject.
I know there have been times when he's used those hands to hold his head in despair…to scratch his head and ask himself, "What am I going to do?  How am I going to fix this?"  But he pulls himself up, gets busy and puts those hands right back to work.  Often he'll ask for a helping hand.  It takes a big man to do that.  Some won't.  He knows he can't do it all himself, and he's the first to share credit.  I complimented him on the great work on the church's TV broadcast: the taping, the camera work, the editing.  He used that hand to point at Eugene Arnold, and said, "That's him David, that's all him."
He probably doesn't like to admit it, but I'm sure there are times when his hands don't feel as good as they used to.  Those have been busy hands.  You stay on earth 74 years, and the aches and pains start to creep in. Sometimes those big hands start to swell, getting bigger than they're supposed to. But still, the hands keep cooking, and clapping, and praying and comforting.
And a little pain won't keep him those hands from cradling the face of a baby, or a teenager in need of some encouragement…or the love of his life, Mother Peggy.
It takes some big hands to lift you up when you fall, to wipe away your tears, to pull you back into life when you're at your lowest point, to give you a hug when you've been deceived, or lost a job, or even lost a loved one…to get you back on your feet when it seems like no one cares. 
The last lines of that Bill Withers song are "I don't have Grandma anymore.  If I get to heaven, I'll look for Grandma's Hands."
I feel blessed to have known Pastor Hunter for the past 25 years, and always feel honored to spend some time with him, his family, and his church family.  I've seen first-hand so many of the good works he's accomplished with his hands…
So Pastor Hunter, I want you to know that you are admired, and appreciated, and will always be a part of us.
Whenever a loved one passes away, I often wonder if they know how much they were loved. Today I have no doubt that W.C. Hunter knew he was loved.  And we know he loved us.  Thanks to his strong influence, his good works will live on forever through those he served.
Here is a video story I did on his 50th anniversary in 2014:
Here is the obituary information:
Bishop W. C. Hunter, 80, departed this earthly life, Sunday, December 11, 2016.  Born May 29, 1936 to the late Charles and Rosetta Parmes Hunter in Chattanooga, TN. He began his journey by starting bible classes with his kids and the neighbor's kids.  After a while the adults began to join.   From this his ministry grew.  God blessed W. C. Hunter who became the founder and general overseer of The World's Church of the Living God in Chattanooga, TN; Clanton, AL; Port St. Lucie, FL; Summerville, GA; Nashville, TN; and Atlanta, GA.  Bishop W. C.  Hunter was also known "Hunter" because of his culinary and entrepreneur skills.
He was preceded in death by his parents; wife, Claudine "Peggy" Hunter; grandson, LaVagas Grundy; granddaughter, Melanie Hunter; adopted sons, Kirby and Reginald Marshall; and mother-in-law, Beatrice Swift.
Survivors include two sons, Charles (Latoya) Hunter, IV and Raymond Hunter; daughters, Claudia and Janice Hunter; adopted children; Robin Angel, Roberta Marshall, Jacqueline Fountain, Jimmy Allgood; brothers, Raymond, Doyle, Billy, and Bobby Hunter; sisters, Betty Rose Allgood-Patterson, Bobbe Harris, Emmagean Suttles, Mary Ann Hunter Graham, Caroletta Hunter-Cummings; twenty-two grandchildren; twenty-four great-grandchildren; three great-great-grandchildren; special friends, Dr. Tiundra Love, Dr. Nicole Harrington, David Fairbanks, Officer Ernest Craw, Commissioner John P. Franklin, Sr.; Dr. Don Franklin; David Carroll;  Dr. Terry Melvin; a host of other relatives and friends.
The funeral service will be held Saturday, December 17, 2016 at 11 AM at Memorial Auditorium.  Visitation will begin at 9 AM until time of service.  Interment – Hamilton Memorial Gardens.