Update, November 14, 2017:  You can send Sheila a request for her apple cake via email:  applecakechallenge@gmail.com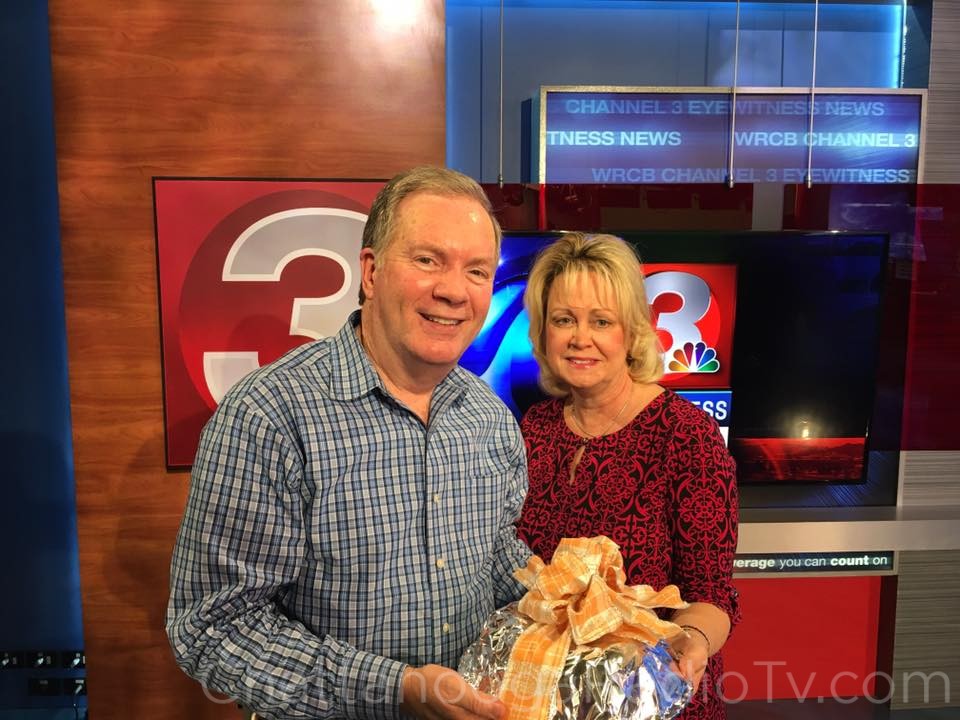 Sheila Stockard makes a great apple cake. Each fall she bakes the cakes and then gives them to family and friends.  These days, when we see a beautiful plate of food, we post a photo on Facebook. Several of Sheila's cakes have been "shared," so she started getting requests for the recipe.
That's when it hit her. Sure, it's easy to cut, paste, and hit "send." But why not make it interesting? She decided to make a deal. "I told them if they would agree to bake a cake, give it away, and then post the picture," she said, "I would send them the recipe. I called it the "Apple Cake Challenge."
By the end of the first day, forty people requested the recipe and agreed to bake and give away a cake.  Sheila hoped it would be a blessing to those who gave, and those who received the sweet treat,  Best of all, she would get to witness each one.
Soon the photos started showing up on Facebook.  Cakes were given to elderly folks, veterans, police officers, teachers, hospital workers, and cancer patients, in addition to family, friends, neighbors, and just "people who need a little cheering up."  The apple cake rush was on: the recipe requests poured in.  Within a week, 63 folks wanted in.  Some ended up baking and sharing up to six cakes. At last count, Sheila has given away fifteen on her own.  With the power of social media, Sheila's recipe has spread sugar and sunshine across the state of Tennessee into Arkansas, North Carolina, Atlanta and as far west as Dallas.
Like the cake, the responses have been sweet and satisfying. "You are so inspirational," wrote one friend.  "You've reminded us about the joy of giving," said another. As for Sheila, she's not seeking glory or attention.  "I truly don't want this to be about me," she said.  "It's about the bakers who accepted the challenge.  Their sole purpose is to make someone's day."
Sheila recently found herself on the receiving end of the Apple Cake Challenge.  She said, "My sister decided I should have my own cake so she baked one for me.  She is now working on her sixth giveaway cake.  She has learned that once you start, it can be hard to stop."
Who could have imagined the excitement that a forty-year old cake recipe could generate?  Sheila describes the recipe as "delicious, easy, and perfect for fall." Scrolling through the Facebook pictures, it's fun to see the excitement and pride when a baker presents the cake to a surprised friend or stranger.  The joy is evident on the faces of the giver, and the recipient.
The online exposure has created a ripple effect.  When a baker posts the picture, their friends comment on how delicious it looks, and they soon ask for the recipe. Following Sheila's lead, they respond, "I will share the recipe, but you must promise that if you bake one for yourself, you bake another cake, and give it away."  So the giving has expanded beyond Sheila's personal reach, much to her (apple cake) delight.
One friend posted a picture of two smiling ladies and a perfect cake, with this caption: "My cake went to my friend and coworker who is taking her last chemotherapy treatment today."
Sheila posted a photo of her presenting a cake to a friend and former co-worker, Lauren Dutcher, in Raleigh, North Carolina. "This cake probably has the most mileage on it, at 450 miles, but it was worth the drive!"
She calls this, "Without a doubt the best apple season of my life, one I will never forget.  It confirms to me that giving is contagious!"
Sheila has kept all the pictures from her "internet sensation," and plans to make a scrapbook to remember this Facebook phenomenon.  She hopes the Apple Cake Challenge can be an annual event.
As she completed the baking of yet another very special apple cake, she said, "I just want to encourage everyone to do kind things for others during every season, not just apple season. You can spread so much joy with a small act of kindness. This little project has made it a most meaningful THANKS-giving!"
(Ready to take the challenge?  Send a Facebook friend request to Sheila Shipley Stockard, and ask for the recipe!)