It was Tuesday March 9, 1993.  I was shooting a news story in Rossville, Georgia, in balmy 70 degree weather.  I called my wife and asked her to dig out the ball gloves, bats, and balls.  Spring had arrived, and I was ready to do a little hitting and catching with our sons when I got home from work.
As I walked into the Channel 3 studio that afternoon, our meteorologist Paul Barys waved me over to his desk. "Come here David, you've gotta see this," he said, with more than a little excitement in his eyes.  He had done this before, and his weather wisdom was usually over my head.
He unraveled a few feet of computer paper with squiggly lines that obviously meant something to him. "You're not going to believe this," he said, "but on Saturday, we'll have about twenty inches of snow."
I looked around his workspace.  There were no visible signs of liquor or any "wacky tabacky," as we called it on Sand Mountain.  He was dead serious.  I pointed out to him that despite his collection of gadgets and radar-ish thingies, he did not have a window.  Having just returned from the great outdoors, I assured him that birds were singing and flowers were blooming. He didn't back down.  I thought it might be wise to confiscate his car keys, but instead I just laughed it off and counted down the days until baseball season.
You know the rest of the story.  Four days later, Saturday came and brought with it "The Blizzard of '93."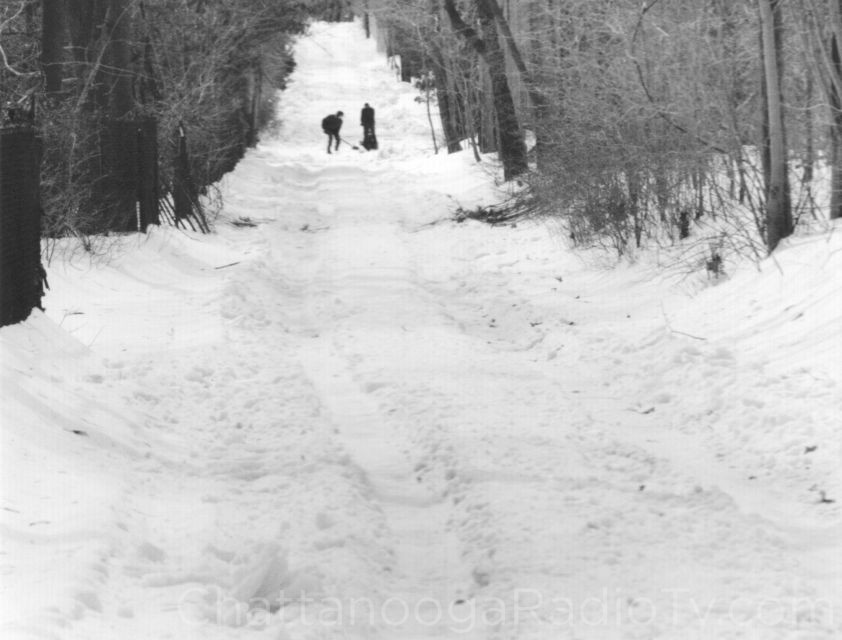 It started around 11:00 p.m. the night before.  My friend Bill Markham decided to anchor the news on the station's porch, since everybody was talking about the weather.  Almost on cue, huge snowflakes starting landing in Bill's thick brown hair.  By 11:30 he looked like Bob Barker after he stopped dying his hair.
I went to bed thinking I had the weekend off, and if it snowed six inches or so, it would be fun throwing snowballs with the kids. Then on Monday, it would all be melted, and I'd be back at work.
Well, it didn't quite work out that way. Yes, Paul's promised twenty inches of snow arrived, give or take a couple inches, depending on where you lived.
My phone rang (that's what phones did in 1993) at about 4:00 a.m. with the boss on the other end.  "Grab your coat and tie, and pack an overnight bag.  We're going on the air in a couple of hours, and there's no way you can make it to work in that big ol' stupid Mercury of yours.  We'll come and get you in a 4-wheel drive."
I live only four miles from work, with no hills to speak of on my daily route.  That was the ride of my life.  My co-worker Doug Loveridge was at the wheel, and it was the total white-out I had heard about, but never seen.  Somehow, he guessed right, and kept it between the ditches.  Thankfully, people with good sense were not on the highway, so there was no one for us to run into.
Once on the air, we stayed on for eight hours.  Our news crews put the chains on, and thanks to front-wheel drive, they made it to a few locations around the city.  Basically, they drove around advising people not to drive around.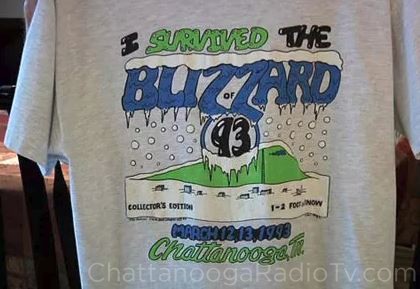 One brave soul from the Electric Power Board joined us on the set that day, to take phone calls from people who were concerned about power outages.  Our calls began dwindling around lunchtime because, well, folks lost power and could no longer watch us.  One lady who had been taken to a relative's home with power, called in and asked Mr. Electricity how she could get a generator.  He kindly advised her to seek a gas-powered unit at her nearest hardware store.  She replied angrily, "No, not gas-powered, that's too much trouble! I need one that will plug into the wall!" We figured that was a good time to stop taking live phone calls.
When I got off the set, I called my wife to check on the status at our house. The power had gone off shortly after I left that morning, and she was dealing with two little boys, ages 6 and 3, trying to keep them from realizing they were cold.
My friend Doug was kind enough to take me home, and a neighbor with a gas log fireplace took in four freezing Carrolls until our power was restored two days later.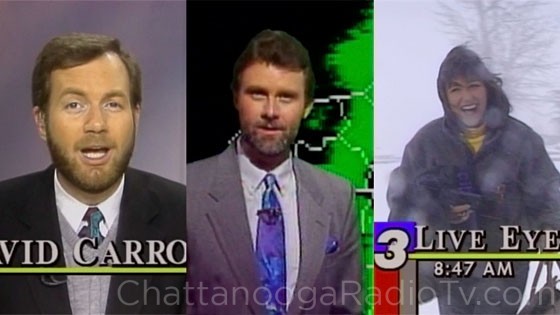 Everyone has a Blizzard of '93 story, and you'll be hearing many of them soon.  The 25th anniversary of that massive mid-March snowfall is coming up in a few days.  But don't worry, it can't happen again.  Can it?