Those talented people who televise Atlanta Braves baseball telecasts did a wise thing Tuesday night.  Maybe they were just following policy, or perhaps they made an immediate decision.  Either way, it was the right call.  During the 7th inning of the Brewers-Braves game, Milwaukee outfielder Carlos Gomez fouled off a pitch from Braves starter Julio Teheran.  Gomez, a right-handed hitter, hit the ball solidly, but very late. The result was a sizzling line drive, striking a young fan seated behind the Braves dugout about 75 to 100 feet away.
(You can see video highlights from WSB and the Atlanta Journal Constitution here.)
Those of us watching at home heard the crowd's reaction.  "Ooohh!" The TV crew did the right thing.  They never showed the young fan.  They didn't have to.  We saw everything we needed to see on the faces of Gomez, and a few Braves:  the pitcher Teheran, catcher Gerald Laird, and second baseman Ramiro Pena.  Gomez, a fiery player who wears every emotion on his sleeve (often to the dismay of opposing fans and players) was almost in tears.  He grimaced, bent over his bat and said a prayer for the stricken fan.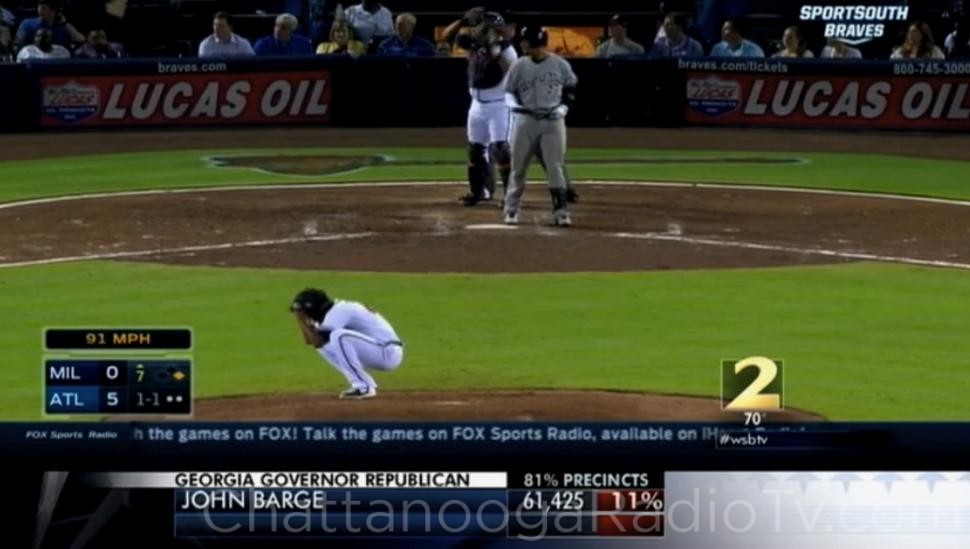 Teheran had a clear view as he watched the ball shoot into the seats.  He immediately crouched to the ground and put his hands to his head.  Laird also had a good look, and grabbed his head as if to say, "Oh no!"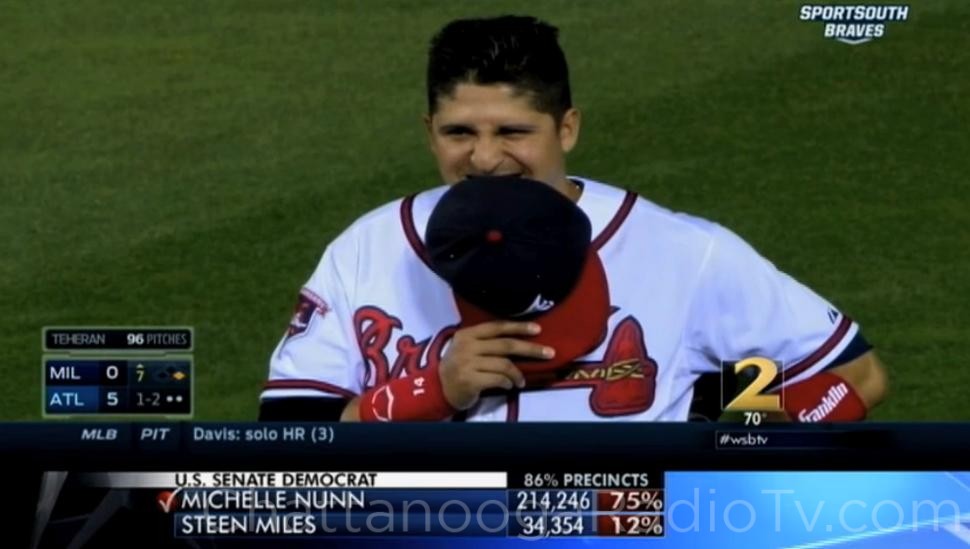 Pena stood motionless at second base, his cap almost covering his face.
Play was interrupted for a couple of minutes as medical technicians rushed to the fan, then making a beeline to the hospital.  After the game, Braves players Laird and Chris Johnson collected an autographed bat and other souvenirs to take to the hospital.  The child was in no condition to greet the players, but reportedly was cheered to see the goodies the next morning.  Even Gomez himself made a trip to the hospital on Wednesday, and reportedly spoke to the child.  Gomez may be an occasional "hot dog" on the field but he most definitely has a heart.
I'll probably lose some macho-man cred here, if I ever had any, but I think it's time to protect fans seated behind major league dugouts, particularly at Turner Field.   The screen, or netting behind home plate has been expanded slightly over the years, but obviously fans are in danger of those speeding-bullet line drives.
Now, let the arguments begin.
1.  Geez, David, you can't babysit everybody who goes to a baseball game.  Fans get hit with baseballs 350 feet away.  Where do you draw the line?  I'm not exactly sure, but it needs to be drawn farther away than it is now.  In Chattanooga, at A T & T Field, I saw an elderly man in the "beer bleachers" in left field get seriously injured by a smokin' line drive foul. My son Vince and I were leaning over the wall behind third base, which is frequent foul ball territory.  Thankfully most of them are hit high enough to camp out under.  Not this one.  It came blazing from home plate, and the old fellow had maybe a second to get out of the way.  It hit him right in the head, and it was not a pretty sight.  So yes, I know, accidents and injuries will happen, far from home plate.  Some can't be prevented. But let's go back to the dugout area.
2.  Well, David, it must not be too dangerous.  You've got coaches and umpires 90 feet away, and some of them are not exactly sprinters, to put it kindly.  You've got batters in the on-deck circle, maybe 50 feet away from the batted ball.  And how many guys have been seriously injured in the dugout itself, where players and coaches regularly lean in over the fence?  Not many, it's true.  But I think they need better protection, or perhaps more common sense themselves.  My sons and I were at the Braves spring training stadium at the Disney complex in Florida on March 9, 2011.  The Braves were playing the Cardinals, and Brian McCann was batting.  He got way out in front of a pitch, and smacked a ball directly into the Braves dugout.  Imagine trying to dodge a speeding bullet.  In this case, McCann's foul ball zoomed right into the face of a uniformed Brave.
Things got very quiet, very quickly.  Chipper Jones was a runner on first base.  He and Albert Pujols of the Cardinals couldn't bear to look, at first.  We were seated between first base and right field.  We knew someone had been seriously injured, as various Braves players and security workers frantically waved for medical help.  Incredibly, in the midst of all that Disney sports splendor, it took twenty minutes for an ambulance to arrive.
It soon became a waiting game: we, and other fans strained to see who WAS up walking around.  Thank God, there's Jason Heyward, the prized outfielder of the future.  Oh good, it wasn't Dan Uggla, our newly signed second baseman.  There's Tim Hudson, he's okay.  It didn't hit Bobby Cox.  Did it hit one of our pitchers?  Spring training dugouts in early March are filled with prospects, did it get one of ours?
As time dragged on, we thought someone had died.  The mood was somber.  Brian McCann was visibly distraught, he put down his bat and left the game immediately.
As the ambulance finally arrived, word began to spread among the crowd: "It's a coach."  The base coaches were on the field, and eventually we saw pitching coach Roger McDowell and bench coach Chino Cadahia. Soon, the Braves beat writers heard the official word, and tweeted it out to their followers.  Luis Salazar, a former big league shortstop, and newly named manager of the Class-A Lynchburg (VA) Braves, was a spring training instructor.  It was him.  We later learned he was alive, but he would lose an eye.
A few weeks later, he returned to his team, and is still Lynchburg's manager to this day.
"Surely," we said, "this will teach the players and coaches a lesson.  Don't lean over that railing."  You know the rest of the story.  A few days later, everything was back to normal.  Thankfully, no one had been killed, and all was well in major league baseball.
The family of the young fan who was hit Tuesday night in Atlanta has not released their name, or the condition of the child.  Let's hope there's no permanent damage.
But at some point, questions have to be asked, and answered.  Some are hypothetical, and some are real.  I have to wonder: if the ball that took Luis Salazar's eye had landed a few feet away, and a big-name player had lost an eye (and a career), would changes have been made?  If, or when a fan seated 100 feet away loses his life from a foul line drive, will MLB react much like the National Hockey League did a few years ago, and finally take protective measures?  And would you, the fan, refuse to buy a ticket if MLB had the nerve to extend the netting a few more feet, upsetting the up-close and personal "fan experience?"
My guess: in all likelihood, this will soon pass, and nothing will change.  Not now anyway, as long as it's simply a tragedy waiting to happen.  Just count me among the fans who regularly asks, "Am I behind a net?" when I buy tickets close to the batter's box.
If you would like to express your opinion to Braves management, you can go here, or write to Frank Wren, Atlanta Braves, PO Box 4064, Atlanta, GA 30302