When your father is the most famous man in town, you tend to get labeled.  You don't really have your own name.  In Chattanooga, Joanie and Jeffrey Masingill grew up as "Luther's daughter" and "Luther's son."  It's a lot to live up to.
You don't have a quiet meal at a restaurant, or a quick trip in and out of the store.  Everybody knows your dad, and they all want a moment of his time.  Your job is to wait patiently, be respectful, and behave.
Joanie and Jeff never seemed to mind the extra attention.  When you grow up with it, it just seems natural.  Both grew up to be successful, responsible adults, much adored by their famous father and his wonderful wife Mary.
They celebrated right along with the rest of us when Luther observed his milestone birthdays and anniversaries, and was honored by his inductions into state and national radio Halls of Fame.
They generously allowed us to grieve along with them when Luther passed away at the age of 92, ending his incomparable 74-year broadcasting career.
They smiled proudly when Luther's city and county honored him with road signs, proclamations, and even in death, with a "random act of kindness" holiday to be observed each year on his birthday, March 9th.
We now mourn the loss of Joan Masingill Brown.  She was diagnosed with lung cancer a few months ago, and quietly waged a courageous battle.  She died Friday April 14 at the age of 56. The wife of Mike Brown, the mother of Ian and Evan, the sister of Jeff and the daughter of Mary is being remembered lovingly by those whose lives she touched.
The apple of Luther's eye will always be Joanie to me.  Although we grew up within thirty miles of each other, and I had known Luther for three decades, I only met her in 2012 in Chicago, of all places, where Luther was being honored by the most important people in radio.  No one was any prouder than Joanie.
I didn't see her again until October 2014 when Luther's family and friends gathered to celebrate his life.  As she spoke glowingly about her late father, I couldn't help but think how proud Luther was of his children.  I remember filling in for him when his grandsons were little.  He and Mary would travel around the country (and even out of the country a time or two) to visit Joanie, Mike, Ian and Evan at whatever locale the Browns' career had taken them.
In recent years, Joanie had divided her time between her home in Texas, and her hometown of Chattanooga.  She enjoyed visiting her mom, as well as son Evan, who attended the University of Tennessee at Chattanooga.  She stayed in touch with her high school friends from GPS, and took great pride whenever folks bragged on her father, when they found out she was "Luther's daughter."  She was indeed that, but she was so much more.
The morning after her death, her son Evan posted this message on Facebook.  With his permission, I'm honored to share it with you.  It is a beautiful tribute from a loving son.
Last night at 7:10pm on Good Friday, my sweet, sweet Mother took her last breathes on earth. I was by her side through it all and as much as it was very painful for me it was just as comforting to know that she passed peacefully and is now with God. It was excruciatingly tough, but she fought the cancer like the warrior she was until the very end. I have never known a kinder, stronger and more loving woman than my Mom. She was ALWAYS there for me and ALWAYS made sure I knew I was forever loved and still am. Her entire life she put everyone before herself, even when she was battling the last five months of her life. She taught me so much, and I hope I can be at least half the person that she was. She always told me that being kind is one of the easiest things you could do in the world. I love you SO much Mom and I miss you so much already. This is so, so tough and it completely breaks my heart that you are gone, but just like you said, it isn't good bye, it's see you later. I love you Mom, and I know you are always with me.
💙 So much love.
Your son
Her husband Mike posted this message:
"She fought a brief but valiant battle with cancer – she gave it her best and I am so proud of her.
She was a wonderful wife for 32 years and the mother of two sons – Ian (28) and Evan (22). They are fine young men with great character and Joanie deserves most of the credit for that. She made friends easily and she had the ability to instantly put people at ease with her charm and grace and she was one of the kindest people I've ever known. She leaves many friends all over the world.
She made the most of her time here on earth and she left the place better than she found it. We are all broken hearted but we know that we have been truly blessed to have been on this journey with her. As her husband, I know that I have been particularly blessed.
The family would like to thank everyone for all the support that we have received over the last 4 months – it has helped to keep our spirits up and it certainly meant a great deal to Joan."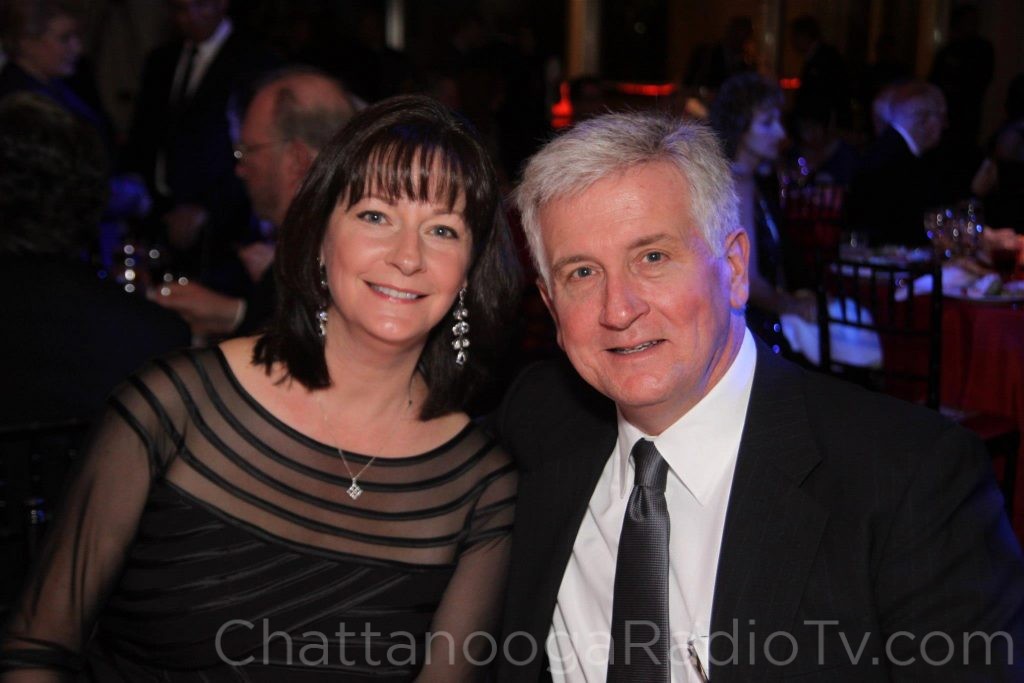 Our thoughts are with Joanie's mother, husband, sons, and many friends.  She was a shining star from a legendary Chattanooga family.  Her good deeds and sunny personality will live on.