During the past few years, I have done more than two hundred programs at clubs and churches to talk about my books.  I love sharing stories about the people who have informed and entertained us.  One of those is the longest-running news anchorman in Chattanooga history.  People always ask me, "How's Bob Johnson doing?"
I see Bob at various get-togethers, so I know the answer to that question.  But for the thousands who followed him on Channel 9 for almost 32 years on the evening news (1975-2007), they're missing a friend.
Like many broadcasters, Bob was bitten by the radio bug at an early age.  Barely a teen in his hometown of Marietta, Georgia, Robert Johnson (his real name) and a couple of his buddies got a one-tube radio transmitter, hooked up a turntable and started playing music.  Their broadcasts didn't reach far, into their own neighborhood at best.  But Bob honed his skills, deepened his voice, and imitated the Atlanta deejays he heard on his way to school.  By the time he was in 10th grade, he was good enough to land a job at WFOM in Marietta.  If one of the regular deejays needed a weekend off, "Bobby Jay" was on the air.  He even played in a rock 'n roll band called "The Mystics." (Bob is standing 2nd from left, with white turtleneck, in photo below).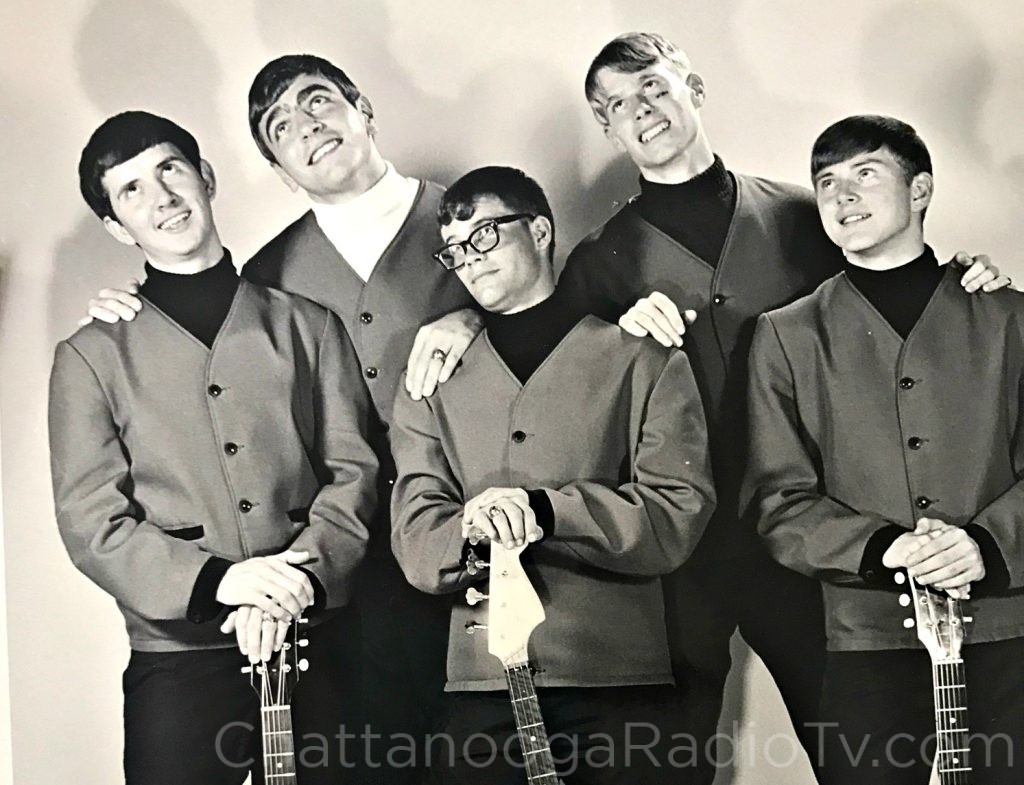 When he graduated in 1965 he enrolled at the University of Georgia, taking journalism courses.  How did he spend his freshman year at UGA?  "Wishing I was on the radio," recalls Bob.  Near the end of the school year, he heard about an opening at WDOL radio in Athens.  He eventually became the station's program director at the age of 22.
TV entered the picture when he was asked to do some announcing for the PBS channel in Athens.  That got the attention of WAGA-TV in Atlanta, which needed an announcer. Bob became their go-to guy for whatever needed to be done.  When the Saturday kids show host left town, Bob took his place.  When they needed a noonday weatherman, Bob learned how to read the maps.  When they started a new morning show, Bob became the host.
Bob's goal was to host programs about news issues, and despite many promises, WAGA never made that happen.  He sold his idea to a station in Charleston, SC, and moved there in 1974.  "That was a bad choice," he said.  He ended up doing the weather there too, and soon began seeking jobs around the southeast.  He targeted Chattanooga, since it was close to home.  He said, "WTVC Channel 9 was going through a rough patch, and they were hiring."  The station had a new general manager, Jane Dowden.  Shortly after arriving at WTVC, she met with Bob. They made a deal, and Bob began his long run behind the anchor desk.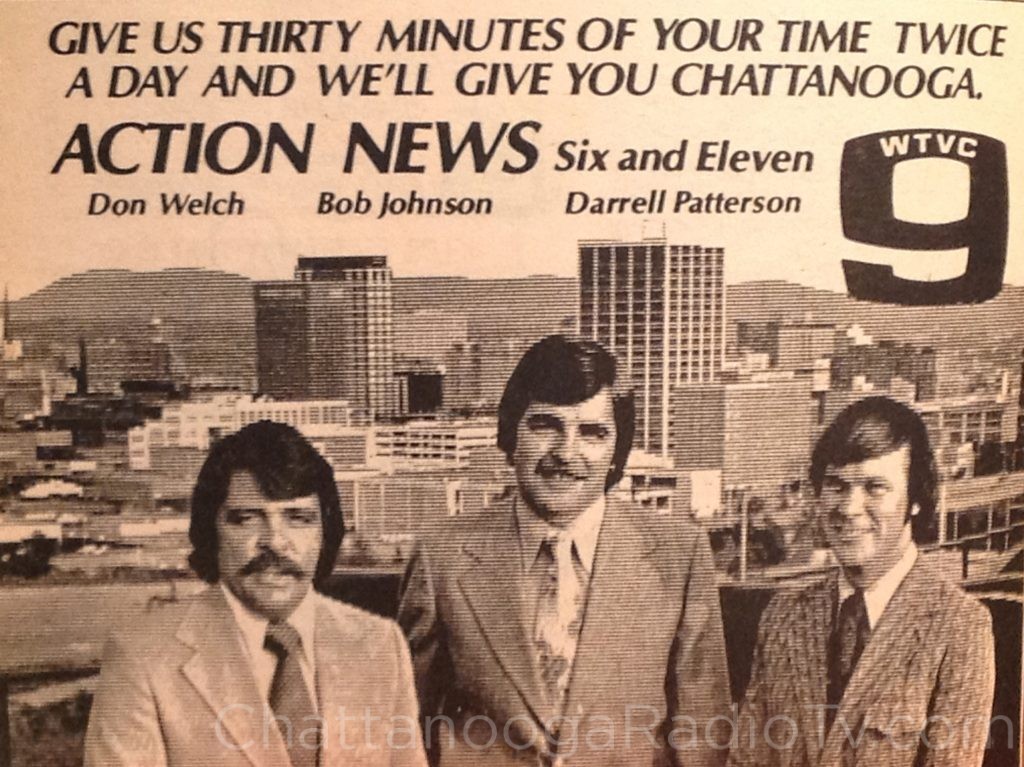 "I was only 28," Bob said.  "We started out in third place. I was teamed with the late Don Welch, who did weather, and (McMinn County native) Darrell Patterson on sports.  We had good chemistry, and people grew to like us.  It took about seven years to get ahead of the other channels."  In contrast to Welch's folksy forecast style and Patterson's evangelical energy, Bob was the authority figure, keeping everything under control. From 1982 on, his newscasts were always at or near the top of the ratings.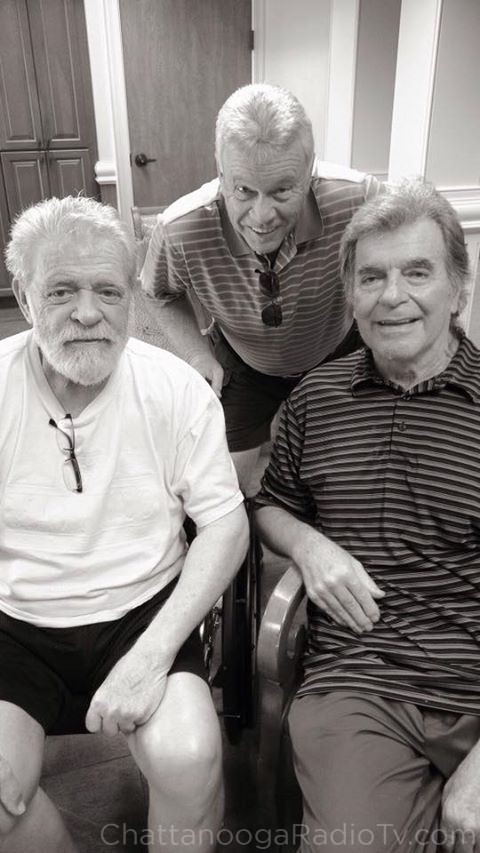 Bob's last few years on the air were marked by tragedy and illness.  MaryEllen Locher, his co-anchor of 17 years, battled cancer for much of that time.  In June 2005, she passed away at the age of 45.  Bob spoke at her funeral, paying tribute to "my good friend, my buddy.  She had such a good heart."
Not long after MaryEllen's death, Bob's own health problems began.  "I'd be standing, and suddenly my leg would just freeze up.  I couldn't move it. My brain would tell my body to move, and nothing would happen."  It was diagnosed as Parkinson's Disease.  Among its symptoms are rigidity and the degeneration of a small part of the brain.  As brain cells die, the brain becomes deprived of the chemical dopamine, which enables cells involved in movement control to communicate.  Muscles become tense and contracted, causing pain or stiffness.  There's no known cure, and it becomes increasingly disabling over time.
"When people ask about me, tell them I'm doing fine," he said. "I have good days and bad days, but I get out as often as I can. I really miss doing the news. I miss helping foster children get adopted in the Wednesday's Child program.  At one time, we had a sixty percent adoption rate.  I'm very proud of that."
He said people still recognize him, and he appreciates their kind words.  "Just yesterday, a lady looked me in the eye and said, "I sure do miss you."  Bob's voice trailed off as he said, "That's really all she needed to say."