I have told many Harry Thornton stories. People enjoy reminiscing about his wrestling promotions, and "The Morning Show," which he originated on WDEF-TV in 1969. Harry knew how to fill an auditorium with wrestling fans, and how to attract TV viewers with controversy.
When I tell the stories, this question often comes up: "Whatever happened to Judy Corn?" From 1971 to 1983, Judy was the "left" to Harry's "right." Harry could rant and rave, but it wouldn't have been nearly as entertaining without Judy by his side. Judy provided the counterpoint, and she could dish it out as well as she could take it.
She didn't know it then, but Judy Corn, still in her twenties, was blazing a trail. Equal rights for women was coming to the forefront, and she was ready to do battle. In those days, it was almost unheard of for a woman to voice her opinions on local TV. Most ladies on local TV were kids show hosts, "weather girls," or doing housewife shows about cooking.
In the summer of '69, Harry appeared on Channel 12 one morning smoking a cigar, and giving his opinions on Vietnam, the moon landing, and civil rights. He was accompanied by Ruth Bloyer, who would attempt to soften Harry's hard edge. Two years later, Ruth moved on. What happened next would change the show, and change Harry's life.
Judy Corn had just moved to Chattanooga. The Nashville-born daughter of a United Methodist preacher, she had opinions, and wasn't shy about expressing them. She heard about a job opening at WDEF. She met with the program director, who said he needed someone to spar with a crusty old broadcaster with a strong personality. She met Harry, watched him on TV, and thought to herself, "I could do that." She took the job, and settled in for a rocky ride.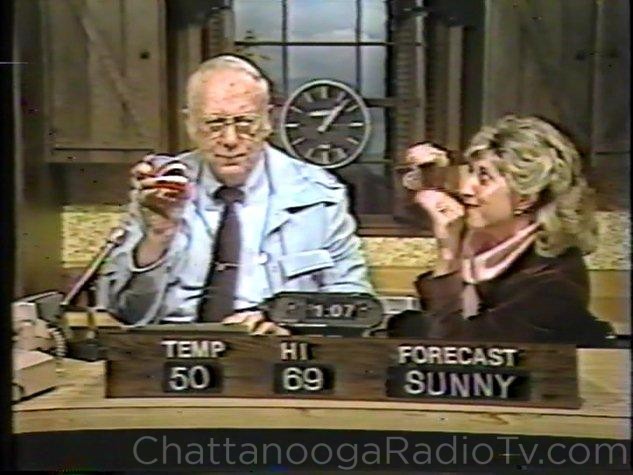 After the initial honeymoon period, things got noisy. Harry hadn't drawn an audience by being polite, and to him, Judy was easy pickings. She had other ideas. She would "fact check" him long before that became a common term. Harry would quote hearsay as fact, and Judy would challenge him to back it up. When she proved him wrong, he wasn't happy. Harry didn't enjoy getting upstaged by an upstart.
After a series of arguments, both on-camera and off, Judy told her father, "He doesn't like me, and I don't think I like him. I'm not sure this is going to work out." Her father said, "Judy, there's something good in everybody, including Harry. You need to find that good in him, and embrace it." She took the advice to heart. "Underneath that gruff exterior, Harry was a good man," she said. "He worked hard, and he wanted to the show to be a success. I did learn to like him. We didn't always agree, in fact we almost never did. But I liked him, and would even grow to love him."
The relationship wasn't without its challenges. Spending ninety minutes a day arguing in front of thousands of people created tension.
One day after the show, Harry was talking about his wrestling matches. Feeling comfortable with her co-host, she said, "Now come on Harry, all that wrestling stuff is fake, isn't it?" He turned several shades of red before retorting, "Now listen here. That's how I make my living, and you're not gonna talk like that, do you understand?" Message received. "I never brought it up again," she said, "and from then on, when he talked about wrestling, I would just sit there and smile."
Other controversies erupted, and Judy would leave the show a few times during her twelve-year tenure. She always came back because, "Harry told management he didn't want to work with anyone else."
He knew a good thing when he saw it.  TV Radio Mirror magazine called "The Morning Show" the highest rated local TV talk show in America (with 62 percent of the viewing audience), and gave the show a national award.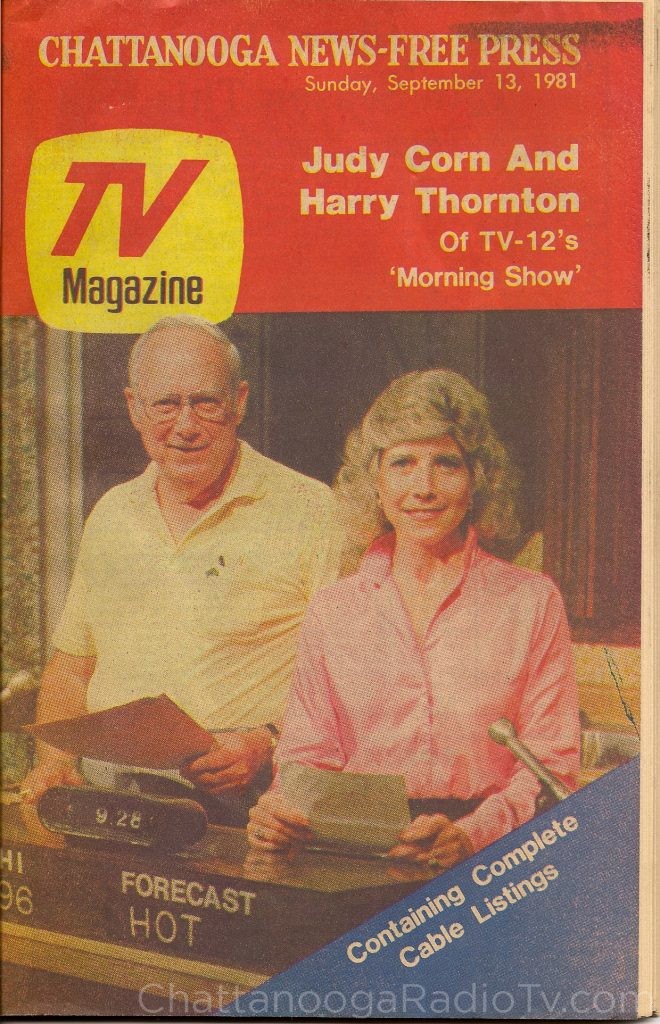 Harry retired from the show in July 1982. He had congestive heart failure, and the doctors told him he'd better slow down, or he wouldn't live much longer. Just four months after a tribute-filled final show, he was dead at the age of 64. "I visited him at the hospital on what would be his dying day. None of us knew that, of course. He had big plans on travelling with his wife Helen. He smiled, and told me, Kid, we had lot of fun, didn't we? I said we sure did, kissed him on the cheek, and that's the last time I saw him. Later that night, I got a call telling me had had died, and I was devastated."
Judy never returned to TV, opting for a career in sales before retiring several years ago.  She now leads a quieter life, living in Chattanooga with her husband, and doing a little traveling. She admits she sometimes misses the excitement of sharing her opinions on live TV. "Oh yes, I have a lot to say, and I think a show like that would draw an audience in Chattanooga. Maybe now, more than ever."