Hollywood loves to make movies about music icons.  Often, but not always, they're biographies of dead performers.  Think Jim Morrison, Elvis Presley, and James Brown.  In Ray Charles' case, the movie "Ray," was completed just before he died.  I just saw "Love and Mercy" about Beach Boy Brian Wilson (who is still among the living), and while it's hard to watch on many levels, it does feature his amazing musical skills.
I'm surprised no one has made a movie about Stevie Wonder's life, because it could be a good one.  His father made a living by selling his mother's body on the streets.  Blind since birth, he was raised just like his siblings.  He was sent out to play, and if he fell into a ditch, or ran into a tree, that was considered a life lesson.  As a teen, he was on the road with the Temptations (in every sense of the word).  Then he wrote and performed more hit songs than anyone during a 20-year period while bedding numerous women and fathering a lot of kids.  Let's just say it's a life made for the big screen.
Then there's Charley Pride, whose story is equally incredible.
You don't hear Charley's name much these days.  He's 78, about fifty years past the expiration date for modern country music stardom.  He hasn't had a radio hit in more than a quarter-century.  Most of his best-sellers date back to the early 80s: even some of the classic country stations don't go back that far.  In fact, I'd say most filmmakers would give a thumbs-down to a screenplay about an artist whose fans are a few decades north of the "Captain America" audience.
That's a shame.  The movies celebrated the life of baseball pioneer Jackie Robinson in "42." It was no blockbuster, but it was well-received.  Queen Latifah starred as Bessie Smith in a popular HBO movie.  So why hasn't Charley Pride's life story been told?  It's been rumored for years, but has never made it to the screen.  I'd love to see it happen in the man's lifetime.
Here's the short version.  Born in Mississippi, to a family of poor sharecroppers.  One of eleven children.  Learned to play guitar as a child.  Played in the Negro American league, as a pitcher, starting at the age of 14.  A year later, signed with the New York Yankees, playing in the minor leagues.
At 15, traded (with another player) to a competing team for a bus.  Yes, a bus.  Served two years in the Army, then returned to baseball, playing in the Cincinnati Reds organization.  At the age of 20, he got serious about music.  Country music.  Let's pause here for a moment.  He's black, and trying to get into country music in 1958 America.  We've got a pretty good movie so far, don't you think?
Yet this is where it really gets interesting.  After struggling for a few years, he was signed to RCA Records by legendary producer-guitarist Chet Atkins. Atkins knew a star when he heard one.  He was responsible for finding most of RCA's biggest sellers of that era, like Jim Reeves and Skeeter Davis.  But with Charley Pride, there was this one problem.  So the label put out his records, with no pictures!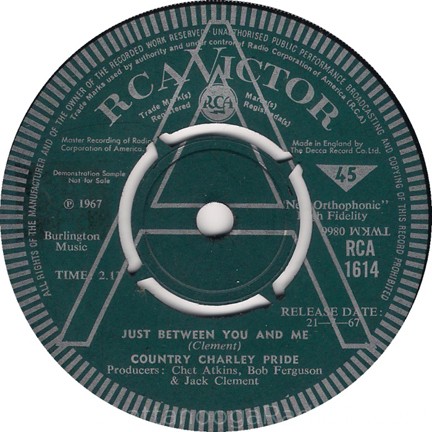 He was billed as "Country Charley Pride."  For the first two years, the radio deejays and listeners had no idea what this Pride guy looked like.  His song "Just Between You and Me" came out in 1966, and hit the top 10.  Outside of the RCA studios, nobody knew his skin color.
That song was the first in a string of 60 top-ten country hits, including "Kiss An Angel Good Morning," which also went top-20 on the pop charts.
He was the first black member of the Grand Ole Opry, a 2000 inductee into the Country Music Hall of Fame, he has a star on the Hollywood Walk of Fame, has performed at the Super Bowl, the World Series, the Baseball Hall of Fame, and at concert venues worldwide.
Earl Freudenberg, who played the hits at Chattanooga's WDOD in the 1960s, remembers when Charley "came out" to country audiences, including a sold-out crowd at Memorial Auditorium.  "He'd appear on stage, sing one of his hits, and say, I don't look like I sound, do I? Up until then, RCA asked us not to say anything about him being black.  They'd say, just play his records, so that's what we did."
I think Charley Pride's story is one of the most amazing in show business history.  Although it's still unusual today for a black artist to make it big in the country music field (Darius Rucker is a recent exception), in the 1960s, it was seemingly impossible.  Charley has some great stories to tell, many of which are in his 1994 autobiography. About his first concert appearance, much dreaded by RCA executives: "Once I opened my mouth and started singing, they liked what they heard."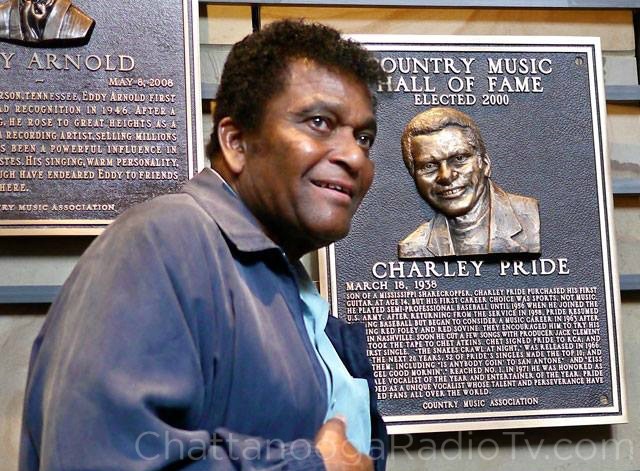 It's way past time his life was celebrated in the movies.  What an inspiration he has been to us all. Come on Hollywood, let's do this!