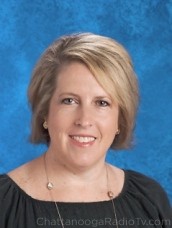 Update, May 24, 2017:  Sandy Stott Bradley has passed away.  A GoFundMe page has been established to aid her family with medical and funeral expenses.  As graduation night approaches (Friday) for Dade County High School, her amazing work, helping the school increase its graduation rate from 71% to 95%, will be evident in the success stories of her students.  On Thursday, the school will observe Senior Class night, and three scholarships will be presented in her honor.
Here is a statement, and funeral arrangements, courtesy of Dade County Schools:
We, in Dade County Schools, mourn the passing of our dear colleague and friend, Mrs. Sandy Bradley.  Sandy passed away early this morning with her husband by her side. She was surrounded by her entire family in the comfort of her home. During Mrs. Bradley's distinguished career of 25 years, she served as a Primary Teacher at Dade Elementary, Math Academic Coach, District Test Coordinator, and Graduation Coach at Dade County High School.
Superintendent Dr. Jan Harris said, "I am thankful my path crossed with Mrs. Bradley.  She was a Master Teacher and a friend to children.  I will never forget her.  She was intelligent, kind, hard-working and student-centered.   Sandy said these words before she died, 'I have no regrets.  I really feel like I have lived my life to the fullest.  I didn't just talk about doing things or going places – I did it.'  I hope one day you and I can say the same words.  She will be greatly missed, but never forgotten."
Mrs. Bradley inspired students to be their best and many graduated because of her influence and encouragement.  During her tenure, the graduation rate increased to 95%.  Tyler said, "I would not be walking across the stage Friday night if it were not for Mrs. Bradley."  Andy said, "She believed in me."  A proud mother said, "Mrs. Bradley was not just a Graduation Coach, she was my daughter's Counselor."  Principal Josh Ingle said, "Mrs. Bradley was totally invested in her students."  Parent Mentor Cynthia Daniels said, "While Mrs. Bradley was home fighting cancer, she still displayed her devotion to our students by calling frequently to check on them, and plan the Senior Graduation Walk that she initiated in the fall."
Visitation with her family is scheduled for Friday, May 26, 2017, from 4:00 p.m. – 8:00 p.m. at the Chattanooga Funeral Home, Valleyview Chapel, 7414 Old Lee Hwy.  The Memorial Service will be Saturday, May 27, 2017, at 10:00 a.m. at Ooltewah United Methodist Church. Burial shall be at the Chattanooga National Cemetery on Tuesday at 10:00 a.m. 
PREVIOUS STORY FROM MAY 20:
A few weeks back, I read on social media that Dade County High's graduation coach, Sandy Stott Bradley, was very ill, batting a life-threatening illness.  It came suddenly, in late March. I became familiar with her several years ago for two reasons.  She was one of my very first Facebook friends, when I was just getting my toe into the water.  But more significantly, when I reported on Dade's rapidly improving graduation rate, principal Josh Ingle emphasized to me that Sandy played a major role in making that happen.
When I visited Dade High for a story earlier this week, a friend told me that Sandy wasn't doing well, and to keep an eye on Facebook, because Sandy did a good job keeping everyone posted on her medical journey.  She had recently returned from the Cancer Center at Johns Hopkins in Baltimore.
Sadly, a few hours ago, she posted this message:
Dear family and friends,
I have spent the last couple of days trying to get the word out about my situation, but I am sure there are some of you that have not heard. Unfortunately, my cancer has quickly taken over my body, and my time here on earth is coming to an end. I am at peace, I know this is all part of God's plan. I have told my kids that I am the winner. My heart breaks for them as I can only imagine how hard it will be growing up without a Mom.
I am home tonight with Hospice care. I'm not able to eat or drink well, so I don't think it will take long before Jesus calls me home. I am so glad I have had each of y'all in my life.
I have no regrets. I really feel like I have lived my life to the fullest. I didn't just talk about doing things or going places- I did it.
Thank you for being a part of my life. I am so lucky to have such great friends and family throughout my time on this earth. I love you all.
That is a beautiful message, written by a lady who has the kind heart and soul of someone who has dedicated her life to children, especially her own. As Facebook messages have poured in from her lifelong friends in Snow Hill and Ooltewah, to her fellow educators, and those she touched more recently in Dade County, I keep coming back to four words she wrote in her farewell message: "I have no regrets."  I feel certain the graduating seniors of 2017 will read that and remember it.  Of all the goals she has put in place for them, met in increasing numbers each year, that one is most important.
I don't have the proper words to sum up the love being sent by so many people, but I know someone who does.  Dade High's media specialist Carissa Henry is not just one of the most amazing educators I've met along the way, she is also one of my favorite writers.  Her tribute to Sandy Bradley speaks for so many.  I'm honored to share it with you.
"Over the years, I have watched her care. I have watched her love. I have witnessed her work tirelessly to help her students. Even when they didn't want her help, she stubbornly refused to sit back and give up on them.
There are many educators who get burned out and frustrated by the system and cruise through their last few years in education doing just enough to get by. Sandy, on the other hand, is the exact opposite of that. She's this inspirational individual who showed up to work every day armed with the passion of a first-year teacher and the wisdom of a veteran educator. What a beautiful concoction of qualities to have.
Thank you, Sandy, for always inspiring me and for modeling what a true educator is supposed to look like. And aside from being the epitome of an educator, you are also one of the best, most genuine people I've ever known, such a loving mother, wife, and friend.
I know that soon, you'll leave this place and cross over to the next, and we will be heartbroken. But know that you'll never fully leave this world, because you've just left so much goodness behind. Your family and friends, your co-workers, your students…you have touched so many lives along the way, and we will all carry little pieces of you inside our hearts…for always."