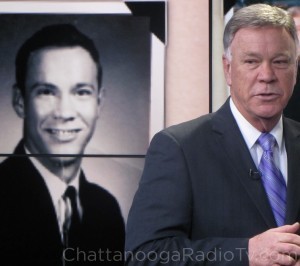 Working on television, I'm pretty sure, is easier than crab fishing, coal mining and fire fighting.  Having said that, not everyone can do it.  Even fewer do it really well.  Darrell Patterson has done it exceptionally well for almost forty years, while standing up.
About three years ago, the WTVC sportscaster with the mega-watt smile decided he'd hang up the microphone in December 2013, when he would turn 65.  "I wanted to walk away on my own terms, and then just do whatever I feel like," he said, "and that's what I've done."  His last day on the air was December 12, one day shy of his birthday.
He has delivered the sports with evangelical fervor, appropriately enough behind a pulpit for most of his career.  "I sat at the news desk for the first few years," he said, "and then one day my wife Ann and I were in Tampa, and saw this sportscaster standing up.  His style was kind of solemn, unlike mine, but it gave me an idea.  I'm very expressive, I talk with my hands and my whole body.  I told my news director I'd be more comfortable standing up.  So that's my confession, I stole it from that guy.  But hey, in TV there are no original ideas."
Still, it was new to Chattanoogans, and they liked what they saw.  Many people have told me they're not even sports fans, but they like watching Darrell because of his enthusiasm.  That's because there are some things you can't fake.  Darrell grew up in a house full of boys, and they all loved sports.
Born in Athens, Tennessee, Darrell's other love was broadcasting.  As a teen, he started hanging out at WLAR in Athens ("the big 1450 on the AM dial," he says), convincing the manager to give him a chance.  Blessed with a great voice and outgoing personality, he worked at two Athens stations, and made a brief detour to Texas before returning home to join Chattanooga's WDOD.  He started doing UTC games on radio, and caught the attention of Tommy Reynolds, who doubled as WTVC's program director and scary movie host "Dr. Shock."  The station was looking for a fill-in sportscaster, so Darrell tried TV and was soon in awe.  "Just think about it," he said.  "I'm a rookie announcer wandering around Channel 9, breathing the same air as Miss Marcia and Bob Brandy, who I had watched since I was 10 years old.  That just blew me away.  Then they offered me a full-time job, and I was thrilled."
On Darrell's first day, WTVC was also hiring a new evening news anchor.  The station had been lagging in the ratings for years.  When it signed on in 1958, management considered news a low priority, and it remained that way until the early 1960s.  They didn't even have an evening newscast.  Gradually, the station began beefing up its news department, but by 1975 was still trailing the competition.  Darrell would be part of the turnaround.  So would another former local deejay, weatherman Don Welch, turning the once-staid forecasts into a showcase for his homespun weather lore.  But the final piece of the puzzle would be that new anchor, with whom Darrell bonded immediately.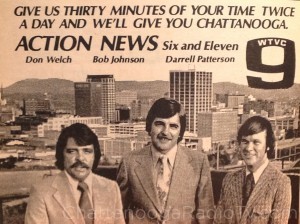 He remembers, "That first day, I met Bob Johnson in the lobby.  We hit it off right then, we had so much in common.  We both started out as disc jockeys, we loved music, and had the same sense of humor.  We stood around in the parking lot that day, and talked for about an hour.  He's been my best friend ever since."
That friendship continues to this day.  Out in public, you rarely see one without the other.  In this blog post from July, Bob told me Darrell was like a brother to him.  Forced to retire in 2007 with Parkinson's Disease, Bob said he misses the daily interaction with viewers and co-workers, but Darrell has remained a constant in his life.  Both are proud of their efforts to bring Channel 9 out of the ratings basement. It took about five years, but they got it done.
"I'll tell you why we caught on, " Darrell said.  "People can see through a phony TV friendship. They know when newscasters really like each other, and I think that really came through on TV.  It was genuine, then and now.  Bob and I were both perfectionists, we had the same vision."
Darrell isn't going anywhere.  Chattanooga is his home, so he'll still see his many friends who have become a part of the local sports scene.  Some, like Jim Reynolds and Buddy Nix are transplants who are here to stay, while others like Dennis Haskins and Mack McCarthy have moved on, but still make frequent visits.
He cherishes the memories of his annual Darrell Patterson Volunteer Challenge, a golf tournament which raised money for "Santa for All Seasons," helping with the needs of area foster children. His 22-year association with the charity was recognized by two Tennessee governors.  He's also proud of his 2004 induction into the Chattanooga Sports Hall of Fame, one of the few sportscasters to be so honored.
But he's most thankful for his relationship with viewers, who have stayed with him through countless format changes, fashion trends and hairstyles.  Surviving, and excelling for forty years in local television doesn't happen often, so there must be a secret to it.  Not according to Darrell.  He says it's very simple.  "I've always talked to the camera like it's a real person," he said.  "I just pretend I'm talking to one of my brothers, I tell the story like I'd tell it to them."
Darrell, you've told those stories very well.  Now, find a recliner and relax for a while.  You've been on your feet long enough.