On August 22, 2004, my radio friend Dex called me at home.  It was late that Sunday afternoon, and when I heard his voice, I knew it wasn't good news.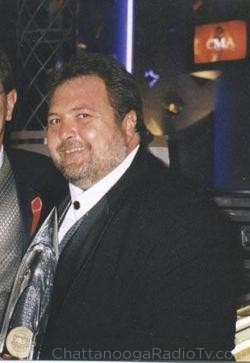 "David Earl just died," Dex said.  I had that odd feeling we get when we hear about someone's death.  On one hand, it was a surprise.  David had just turned 48, and was in the prime of his career.  On the other hand, he loved to eat, smoke and drink, and at various times he had done all of those things in excess.
David Earl Hughes defined the term "larger than life."  About ten years earlier, a fellow US-101 deejay also died suddenly, and young.  He too, was overweight and didn't take very good care of himself.  "That's it, I've gotta clean up my act," David said.  And for a little while, he did.  But old habits are hard to break, and he resumed his regular lifestyle until his heart couldn't take it any more.  So, in all honesty, a few seconds after Dex delivered the bad news, I said, "Well, I guess we saw it coming."  That didn't make it easier for his family and friends, though.
I first met David at WGOW in 1980.  I was on KZ-106 a couple of doors down, and he started his midday shift as I was ending my morning show, around 10:00 a.m. each day.  He made an immediate connection with listeners with his booming bass voice and distinctive drawl.  He was proudly Southern to the core, and he delighted in baiting "Yankees" like my then-girlfriend (now wife)  Cindy.  It was fun watching them go at it.  She wouldn't back down, and he liked that!
He spent a few years on WGOW, as part of a solid lineup that featured Dale Deason and Garry Mac in the mornings, and David Earl in the afternoon.  In 1985, a couple of years after I left KZ-106, the station wanted to create a different kind of morning show, modeled after the "Morning Zoo" format in other parts of the country.  The KZ programmers recruited David Earl from WGOW, and moved up "Jammer" Jay Scott from the night show to create their own Morning Zoo.  Other station personalities rounded out the cast, and the KZ Morning Zoo resulted in chaos and high ratings for about five years.
During that time, I would still see David each weekend at our "Foul Tips" softball games, and he would tell me about offers from stations in bigger markets, even Chicago.  But he seemed to prefer country music, and his goal was to eventually work in Nashville.  In 1990, he got an offer from Chattanooga's top radio station, country music giant US-101, and he was unleashed from the Zoo.
Getting the afternoon show at US-101 turned into a great career move.  He was right at home from day one, and he took their already-high ratings even higher.  A few years later, he did a very admirable and generous thing. Bill Poindexter, better known as "Dex," was a veteran of local radio and national record promotion, but had tired of the travel.  He had settled back into his north Georgia home, and had taken a couple of jobs to tide him over.  That old radio bug was biting though, and he convinced US-101 to give him a job, any job, to get his foot back in the door.  He was setting up remote broadcasts, and doing traffic reports.
On many days, he reported traffic on David Earl's afternoon show, and the two built up a great rapport.  Their personalities meshed well, each could make the other laugh, and their chemistry was outstanding.  I'll pause here to say that 99% of "solo" radio hosts enjoy being solo.  Think of Howard Stern.  He is surrounded by co-hosts and sidekicks, who make up a huge part of his show.  But his show never was, and never will be called "Howard and Robin," or "Howard and Jackie."  The same goes for Dan Patrick, Tom Joyner and many others.  There's only one "star."  David Earl knew better.  He knew his show was better when Dex was trading one-liners with him.  Almost immediately, this one-man, top-rated afternoon radio show became "Dave and Dex."  A very good show became an even better one.  Just like that, Dave and Dex were partners.
The duo scored some astronomical ratings, but in 2003, David Earl's dream job came open: the afternoon show at the powerful country station WSM-FM in Nashville.  The biggest, deepest voice in country radio had a chance to be heard every day in Music City, by those who were making the music.  At first, Dave and Dex were going as a team, but Dex decided to stay in Chattanooga, so David Earl Hughes was a solo act again.  With his family established in Chattanooga, David Earl made the two-hour commute each day, which had to be tiring.  His tenure in Nashville was destined to be brief, cut short by his death at age 48.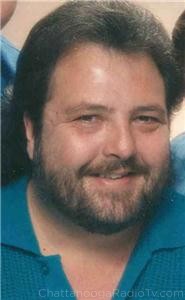 He was one of a kind to be sure.  When our Foul Tips softball team visited neighboring towns in the KZ-106 listening area, big Dave was a crowd favorite.  He played a solid first base (making a great target for our infielders).  Occasionally he would wear overalls, or his own size XXXL jersey, with number 747 on the back.  That was always good for a laugh.
US-101 station manager Sammy George, and Dave's longtime partner Dex spoke at David Earl's memorial service on August 22, 2004.  With the help of editor David Fowler, I have assembled a six-minute "highlight reel," of their very funny, very moving speeches, along with a musical tribute at the end, spotlighting David Earl's favorite television show.  If you weren't able to attend, you missed a wonderful service.  And we are still missing a world-class radio personality.
Here's an added bonus: you can hear that booming David Hughes voice again, from his KZ-106 Morning Zoo days, in this 1986 WRCB news story: