I've heard it all my life, and I've said it all my life: "If it sounds too good to be true…it usually is."  This one time, I'm not gonna say it.  It's good, and it's true.  Read this next line out loud, and then share with anyone who might need some help.  This Saturday and Sunday, real doctors are offering real care for your medical, dental and vision needs, absolutely free.  I know, it sounds weird.  Go back and read it again, I had to do that two or three times.
For those who prefer to cut to the chase, here's what you need to know.  This is happening Saturday and Sunday, September 20th and 21st, very early in the morning at Ooltewah High School's new gym, at 6123 Mountain View Road, just off exit 11 on I-75.  First come, first serve.  ***NOTICE*** If you arrive after 12 midnight either night, you may be too late!  Get there as EARLY as possible, or you may not get served that day **** Click here, and all your questions will be answered.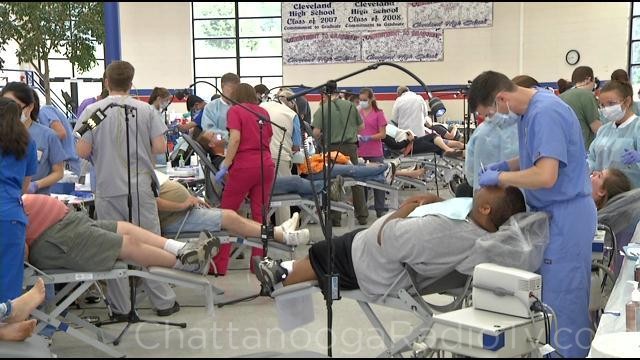 This event is organized by Remote Area Medical (RAM) Volunteer Corps, a non-profit agency that provides free health care, performed by doctors and dentists who donate their time and services.  The group is headed up locally by Bob Nevil.  Bob works hard to make this a success, but he's not alone.  "Our medical volunteers do this out of the generosity of their hearts," he told me.  "This is the fifteenth clinic I've participated in, and doctors rarely tell me no.  They know they're filling a need."  He is also thankful to Ooltewah High principal Jim Jarvis, and the school's JROTC, who will spend all day Friday setting up for the weekend.  "We'll be in their new gym, which is air conditioned.  We want to make folks feel comfortable."  RAM's founder, Stan Brock will be at the site, handing out numbers in the wee hours of the morning.
What types of services are offered?  It's quite a list:
DENTAL: Cleaning, Fillings, Extractions  (NO denture work, NO root canals)


VISION: Complete dilated eye exams, glaucoma testing, diabetic retinopathy, glasses made on site; want to save time? Bring your current eye glass prescription (within 1 year) to avoid an eye exam.

MEDICAL: General Medicine  (NO MRI's)


PREVENTION: Breast Exams, Diabetes Screening, Physicals, Women Health
Why am I trying to get the word out?  Because the same folks did this two years ago in East Ridge, and thought they had done a good job spreading the news.  By mid-afternoon both days, the docs had to pack up and leave, because they ran out of patients.  Here's the deal, again: they're volunteering their services, absolutely free, two days only.  This doesn't happen the other 363 days of the year.  These medical experts want to help as many people as possible, at no charge, this Saturday and Sunday.  If what I'm hearing about financial and insurance woes is true, we should be able to keep them busy for two days.  Many people are employed with little or no insurance plans, and this is a rare chance to get some free help.  Not to mention those who are out of work, and have no insurance at all.  It's open to everybody, from everywhere: there are no residency requirements.
You may have friends or relatives who are not computer-savvy, and aren't reading this blog.  Maybe they don't read the paper, or watch much TV.  Media outlets have tried, again this year, to get the word out, but it seems like on Monday there's always someone who says, "If I had known about it, I would have gone!"  Let's make sure the people who need this help know about it, and let's help them get there.
Each morning, they'll begin giving out numbers at 3:00 a.m., and the doors open at 6:00 a.m.  There are dozens of volunteers manning a gym full of dental, medical and vision exam chairs.  The treatment they usually administer in doctors' offices is being offered at Ooltewah High.  No insurance? No problem.  No cash, no money in the bank account?  This is for you.  Is it that simple?  Not quite.  Obviously, they'll need to know about your medical history, and drugs you're currently taking (or cannot take), so there are forms to fill out.  Just like the doctor's office, with one cheery exception: you won't get a bill.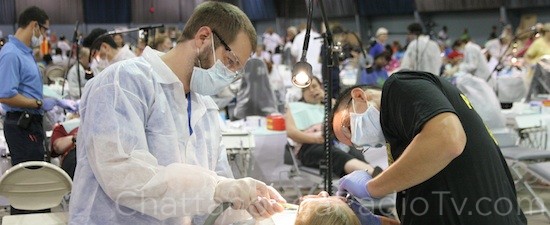 So if your eyes are a little blurry, here's your chance to get glasses.  Free, on the spot.  Got a toothache, and you've been avoiding the dentist's office because you're broke?  That excuse won't fly this weekend.  What else is ailing you?  Go see a doctor this weekend, for free.  If they're unable to fix what's ailing you, they'll try to arrange some help.
Let me shower some praise on those who are volunteering, and those who are organizing this event.  They're doing this because they can, and because there's a need.  They're getting the word out every way they know how, including this blog.  If you share it with someone you know, you'll be doing them a huge favor.  Send the link, print it for them, call them, read it to them, give them a ride to Ooltewah.  This happens in the Chattanooga area every two years, that's all.
For now, let's assume this event is successful, and lots of people show up seeking care.  "Well," someone might say. "I might have to wait for a while."  That is true.  Just like a visit to the doctor's office.  Except it's free.
Bob Nevil hopes the turnout will surpass the 2012 event, when doctors saw 880 patients, providing an estimated $371,000 in free medical care.  "Don't be embarrassed," he said.  "Don't be scared.  We accept everybody, and we want to help.  We've been blessed, and we want to share."
If you have questions that haven't been answered here, or on the website linked above, call (423) 463-5875.  If you have to leave a message, they'll call you back, honest.