It seems hard to believe now, but for 11 years, (1967-77), Chattanooga viewers watched a 20-hour annual telethon (from 11:00 p.m. Saturday to around 6:30 p.m. Sunday) for the March of Dimes.  Broadcast live from first the Tivoli Theater, and later the Memorial Auditorium, the stage was filled with celebrities, and the technical gear was operated by crews from all three local TV stations.  Once a year, competition was put aside for a common goal: the battle against birth defects, led locally by Dr. Walter Boehm.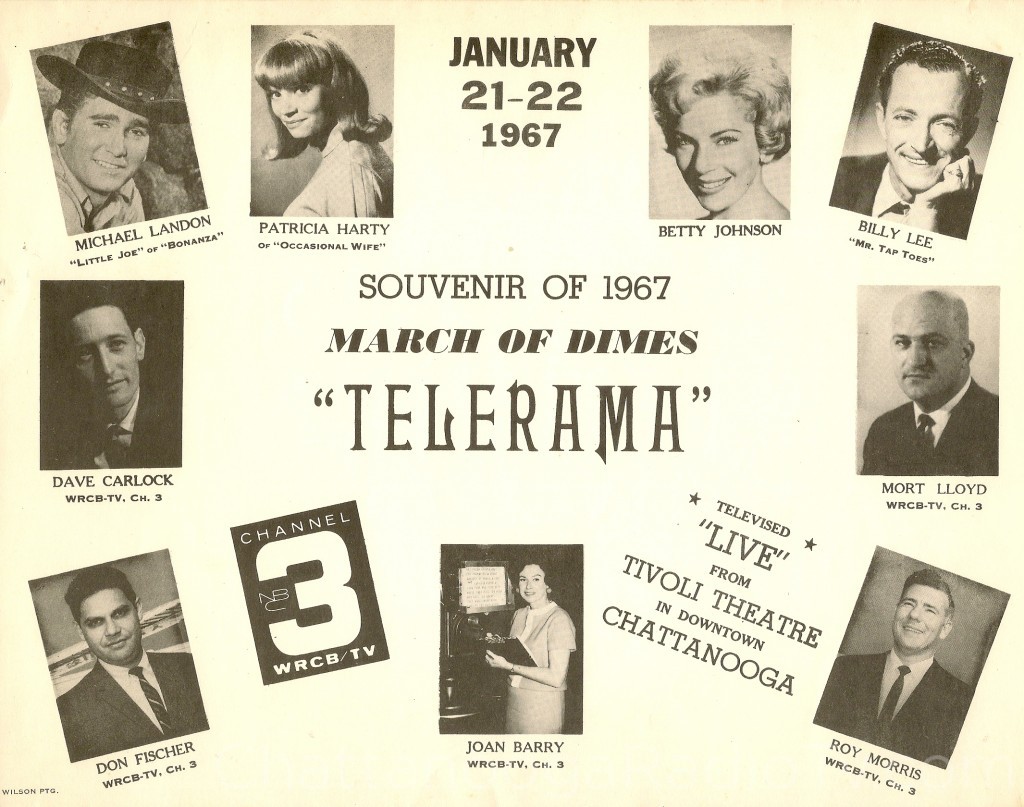 The March of Dimes "Telerama" was held each January, hosted by Roy Morris from 1967 through 1974.  Roy was a popular TV personality who also acted and sang in Little Theater productions, so he was quite capable of filling time during a 20-hour live TV show.  Channel 3 televised the event from 1967 to 1973.  Roy switched to Channel 9 briefly, hosting the '74 Telerama for that channel.  Channel 9 continued the tradition for three more years.
Similar March of Dimes telethons were done by stations nationwide beginning in the early 1960s, all following the same format. With only three major networks at the time, there weren't many stars to go around, but a surprising number spent many January weekends on the road.  James Arness and Dennis Weaver from "Gunsmoke," Fess Parker and Ed Ames from "Daniel Boone," and Max Baer and Irene Ryan from "The Beverly Hillbillies" made the rounds from Pittsburgh, to Charlotte, to Knoxville, Seattle and beyond to help the March of Dimes.  Some, like Weaver, Parker, and Ames, could sing or play a guitar on the shows.  Others would simply appear on stage, joke around with the hosts, and help answer the phones.  Fans who attended the shows often got autographs from the Hollywood stars.
During all those January weekends, we welcomed some big-name talent into Chattanooga.  Michael Landon, the most popular star of  TV's number-one show set the standard in 1967.  "Bonanza" was riding high in the ratings, and everybody loved "Little Joe." Landon was on-camera frequently during those 20 hours, posing for pictures, signing autographs, and making a tearful (and effective) plea for viewers to donate.
In the years to come, we would anxiously await the announcement of the next Telerama stars.  The Chattanooga producers tried to top themselves each year.  In 1968, Leonard Nimoy came to town.  It sounds strange now, but "Star Trek" wasn't that popular when it first aired on NBC, so an appearance by "Mr. Spock" didn't create as much excitement as you would think.  Local producer Wayne Abercrombie, Channel 3's first employee, was organizing the event. Sharing the bill with Nimoy that year were "The Virginian" star James Drury, "King of the Road" singer Roger Miller, and country comedian Minnie Pearl, so collectively there were plenty of stars.
"James Drury was better known than Leonard Nimoy at that time," Wayne told me.  "His show had been on for many years, and Leonard's show was still trying to find an audience.  None of us knew that Star Trek would eventually become a worldwide phenomenon, and Mr. Spock would be a household word.  Now everybody wears Star Trek clothes, including my grandson."  Wayne said Nimoy was very congenial during his two-day visit, spending the night at the Read House.  About eight years later, the two crossed paths again.  "I was in the airport in Chicago, and Leonard Nimoy was coming my way.  I looked at him, he looked at me, and I could tell he was trying to figure out where he knew me from.  I just called out 'Chattanooga!' and he said, yes, we did a telethon together.  It seemed like he was relieved to figure out who I was!"  Wayne said he was saddened to hear of Leonard Nimoy's death on February 27 at the age of 83.  "He sure had a world of fans," Wayne said.
In the years to come, there were more western stars (David Canary of "Bonanza" and actors from "The Virginian" and "High Chaparral"), "Hee Haw" stars Roy Clark, Gunilla Hutton, Roni Stoneman and the Hagers, then-"Laugh-In" cast member Richard Dawson, Peter Marshall of "Hollywood Squares," Anson Williams ("Potsie" from "Happy Days"), Robert Reed from "The Brady Bunch," and singer Crystal Gayle.
I hope this has brought you some nice memories as well.  If you have a Telerama story to tell, please share it in the comments section, or e-mail me at 3dc@epbfi.com