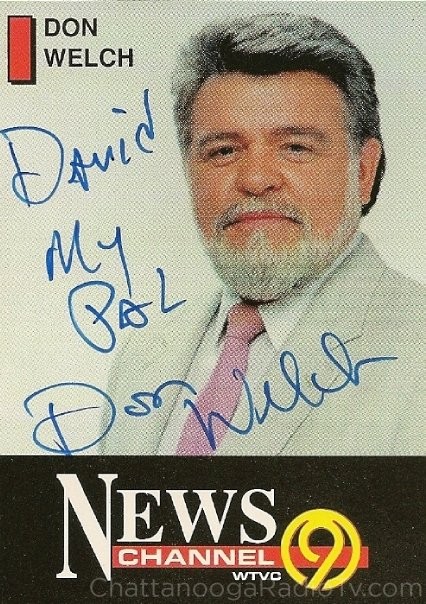 Say this about Don Welch: he sure knows how to get your attention, especially on his way out.  His has been a career full of colorful exits.
The Dayton, Tenn. native first made his mark in Chattanooga broadcasting in the 1960s, as a news reader and disc jockey on WDXB radio.  Jerry Lingerfelt was in charge of hiring and firing, and got to know Don well, hiring and firing him numerous times.
He remembers one of Don's more memorable farewells.  "I came in one day, and Don had left a pile of his equipment on my desk, with a handwritten note, saying 'I Quit!' That's just Don," Lingerfelt said.
Don's most famous goodbye would come in 1989, when his performance on the news, made the news.  He had left Chattanooga the previous year, after working 20 years at all three TV stations at one time or another.  Nashville had come calling, in need of a weekend weatherman.  WTVF, the CBS station had heard of his folksy persona, so Don accepted their invitation to move up to Music City.  The good times lasted ten months.  There were disagreements over clothing and hairstyles, and one night during the live newscast, Don had had enough.  Saying he felt "squashed, persecuted and kicked in the teeth" by station management, he looked into the camera and said, "Folks, have you ever been backed into a corner and they thought you were going to take it?"  He was just getting warmed up.  The camera crew froze.  Is this really happening?  Is this some kind of a joke?
"Well, that's what's happened to yours truly here at Channel 5.  I've been put in a position by management that I cannot accept, and I will not live with.  So this will be the last time you'll see Don Welch in Nashville."  With that, he walked off the set, leaving the stunned anchorman to say, "We'll be right back!"  The Associated Press picked up the story, and the tale of the weatherman's live-TV walkout went national.
Within days, he was back on the air in Chattanooga, where he has remained ever since.  On Wednesday April 23rd, he will say goodbye again, but this time it will be much more cordial.  At the age of 72, Don's days of "I quit" notes and on-air walk-offs are over.  Sure, he's still cranky and cantankerous at times, but he has mellowed, a little bit anyway.
Don's 52-year broadcast career has been a rollercoaster ride, and he's even taken a few detours along the way.  After leaving WDXB for the last time in 1968, he became an announcer at WRCB Channel 3.  Then-news director Fred Gault said, "He was hired to read commercials, and worked his way into the control room where he learned to direct newscasts."  That was Don, deciding which cameras anchorman Mort Lloyd and weatherman John Gray would be looking into.  One day, they needed somebody to fill in doing the weather, and Don figured, "I can talk my way through anything, I can do this too."
So Don started his on-air TV career, and for the next seven years, did a little bit of everything on Channel 3, eventually becoming the regular weekday weatherman.
In 1975, WTVC Channel 9′s new general manager Jane Grams was determined to get the station out of last place in news, where it had been since 1958.  The station had selected Darrell Patterson as its new sports director, then hired Bob Johnson as news anchor, but needed a weather personality to complete the new team.  Patterson and Welch had worked together in radio, so the connection was made.  Welch was hired away from Channel 3, and suddenly the last-place news station started getting some attention. (Ironically, Ms. Grams, the city's first female TV executive, would wait four more years before adding a woman to the anchor desk.)
The new anchor team clicked immediately.  To this day, they're compared to the Will Ferrell "Anchorman" movie characters of the 1970s. Welch was 33, five years older than Johnson, and seven years older than Patterson, so you would think he would provide some maturity for his younger brethren.  Not a chance! Instead, he led these merry Musketeers on a nightly ride of on-air chaos and some off-air fun too.  While the other channels stuck with their "just the facts" style of delivering the news, the Channel 9 crew poked each other like wayward frat boys.  Some called it "happy talk," but Bob, Darrell and Don just chalked it up to natural chemistry.  "I'd talk about wooly worms and Grandpappy's weather lore, and get it right more often than the certified meteorologists," Welch laughs. "One time Bob asked me if it would rain tomorrow, so I got out my lucky quarter, flipped the coin, and tails said no.  It didn't rain, so we kept using that quarter.  Finally someone said to stop doing that, I don't know why!"
The Bob-Don-Darrell team was only in place for about five years, but Channel 9 got out of the ratings basement, and many viewers still remember the trio fondly.  Don left TV for two years, and was lured back by Channel 12 after Harry Thornton retired from "The Morning Show" in 1982.  Judy Corn needed a new sparring partner, and Don seemed like a good fit.
Don worked at Channel 12 for six months, but soon returned to Channel 9 where he would host various morning and midday shows, interrupted briefly by his ill-fated move to Nashville.
Since 2005, he's been hosting "This 'N That," a 12:30 p.m. show that has allowed him to "just be Don," doing feature stories and interviews with a lighter touch.  He's also found time to be a pipefitter, a Shriner, and snare drummer for Highlander Pipes and Drums.
He's had a few health issues in recent years, and after announcing his retirement in March, told me he's not sure what he's going to do.  "For the first couple of months, I'll just do nothing, and then figure it out."  When asked if he'd follow in the footsteps of Patterson, and do some commercials after retirement, he said, "Absolutely! I'm not letting Patterson get ahead of me!"
Don Welch's hearty laugh, big smile and folksy weather wisdom will long be remembered, as will his various fashion choices and hairstyles, ranging from buzz-cut, to Tony Orlando, to Santa Claus.  I have a feeling he won't be a stranger in retirement, and we'll get to see him doing a little bit of this, and a little bit of that.  Stay classy, Don!