In case you missed it, a couple of big shows are coming to the UTC Arena, now officially known as McKenzie Arena in Chattanooga.  Elton John, a part-time Atlanta resident, is returning for the third time in recent years for a March 12 show, followed by fellow 1970s icon James Taylor on April 23.
This is the biggest back-to-back showing of big name acts since the Arena's heyday in the 1980s and 1990s. It's hard for younger music fans to believe, but in those days the Arena hosted music's biggest names every few weeks, year after year.
The Arena opened October 8, 1982.  I was there, along with 11,000 other excited music fans.  Chattanooga finally had a performing center large enough to attract superstar musical acts.  The Tivoli Theater, opened in 1921 with 2,000 seats, was great for an intimate show, but much too small for a big-name artist.  Memorial Auditorium, dating back to 1924, had hosted its share of shows, but its 3,800 seat capacity had long been surpassed by venues in surrounding cities.
UTC's Arena (or as some called it, The Roundhouse) put Chattanooga in the big leagues as a concert town.  The opening night headliner was Kenny Rogers, at the peak of his career.  A comedian opened the show, followed by the Gatlin Brothers.  Both acts had to compete with chatty opening-night fans, causing Gatlin to stop in mid-song, asking, "Are we bothering y'all?" Eventually the chatter died down and Rogers appeared, singing "Lucille," "The Gambler" and his other hits.  We went home happy, awaiting more great shows.
We were not disappointed.  During the next few years, superstars appeared regularly on our local stage.  Just a few weeks after it opened, Willie Nelson sang everything from "Amazing Grace" to "Whiskey River."  Soon it was Diana Ross.  Alabama.  Tina Turner.  Bob Seger.  Cher. Elton John.  Heart.  Hank Williams Jr.  Van Halen.  Randy Travis.  Journey.  Jackson Browne.  ZZ Top.  Reba McEntyre.  Alan Jackson.  The Allman Brothers.  Bon Jovi.  Wynonna Judd.  Chicago.  The Beach Boys.  The Statler Brothers.  Sandi Patti.  Aerosmith.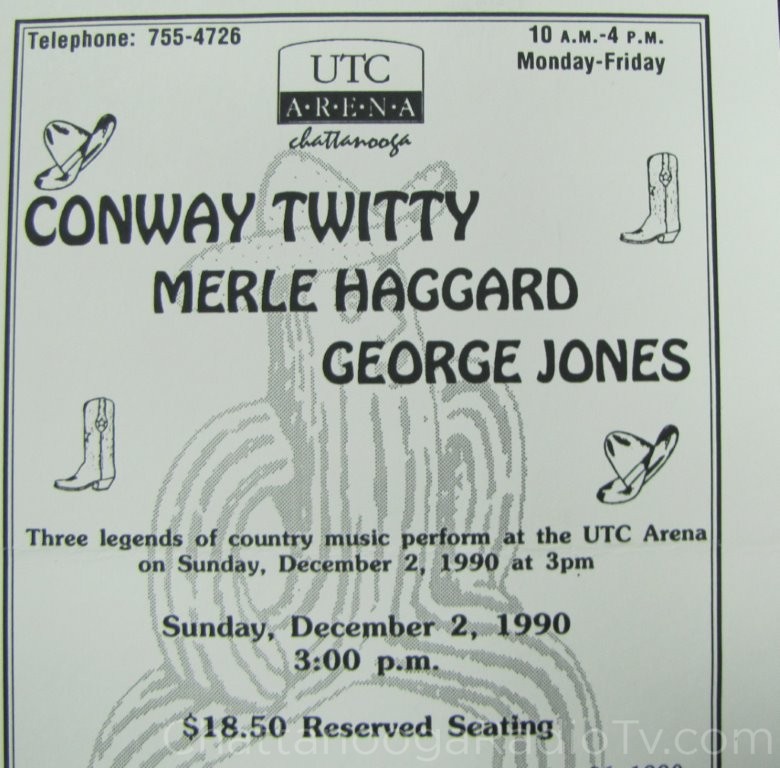 There was a triple-header show with the three biggest country stars on the planet in 1990: Merle Haggard, George Jones and Conway Twitty.  Jimmy Buffett.  REO Speedwagon.  John Denver. Bob Hope.  John Mellencamp.   Michael Bolton. Clint Black. The Osmonds.  Rick Springfield.  Kenny G.  Barry Manilow.  Amy Grant.  The Gaither Family.  The Oak Ridge Boys. Kid Rock. Kenny Chesney.  Shania Twain.  Luther Vandross.  Lynyrd Skynyrd.
Not to mention all the rodeos, monster trucks, wrestling, Disney On Ice, Harlem Globetrotters, Bob Barker's Game Show, circuses and other spectacles.
We saw Rod Stewart kicking a soccer ball….The Pointer Sisters energetically outshining headliner Lionel Richie….Tina Turner commanding the stage…we looked on with amusement as Billy Joel handed off the high notes to a backup singer…we watched  Barbara Mandrell play pretty much every musical instrument ever invented…and so much more.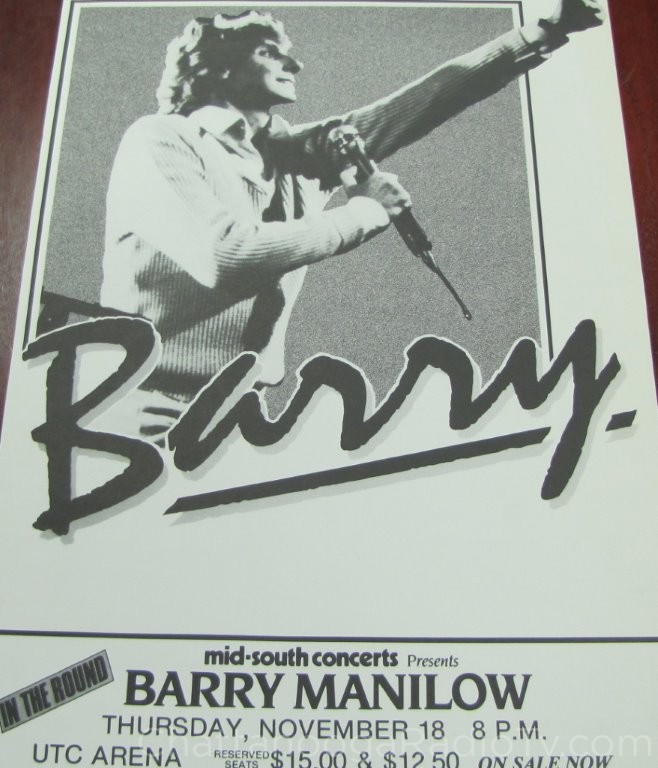 We thought those days would never end, but they did.  The arena that hosted at least 20 big-name shows a year eventually went silent, except for basketball and high school graduations.  Taylor Swift was there a few years ago, before her career kicked into high gear.  Maroon 5 with Adam Levine, Carrie Underwood and Toby Keith have all appeared in recent years, but such shows have been few and far between.
Why did the music fade out?  Here's the quick answer:  Most acts would rather go somewhere else.  Since 1982, the Arena has gone from shiny and new, to undersized and outdated.  Better-designed venues have sprung up in nearby cities like Nashville and Huntsville.  That means bigger crowds, and more sales of t-shirts, programs and other items that fatten artists' wallets.  One source close to the Arena told me, "It's not from lack of trying.  We're always trying to attract big shows.  Some artists look at us as just a blip on the map."
Perhaps the highlight of the last year at the Arena was the appearance of Vice President Joe Biden, who delivered an emotional tribute to Chattanooga's five fallen servicemen, just days after the July 16 shootings.  His speech was especially powerful as he shared his grief over the recent loss of his own son to cancer.  The Arena proved to be an appropriate setting for a patriotic memorial program.
I'd love to hear about your favorite "Roundhouse" show memories.  Most of the big shows took place before cellphone cameras became commonplace, so there aren't many pictures from the 80s and 90s era shows.  But we can still hear the music, and the applause.
Bonus rare video # 1:  Jackson Browne soundcheck at UTC Arena before his August 13, 1983 show:
Bonus rare video # 2:  Alabama performs at the UTC Arena (2 sold out shows) March 12, 1983, with press conference footage, in story reported by WRCB's Bob Beard.