Wow, thirty years have gone by.  Earlier this week, my employer surprised me with a nice salute on the thirtieth anniversary of my employment. You can watch the video below:
When I started working at Channel 3 in 1987, Cindy Sexton anchored the evening news, Paul Barys was Chief Meteorologist, Tom Tarzian owned the company, Tom Tolar was general manager, Wayne Jackson directed the evening news, Bobby Winders was the "Mr. Fix-It" engineer, Doug Loveridge and Ken Scott produced commercials, Debbie Walker, Pam Teague, and Janet Garner were running the business affairs, and Lemmie Thomas was in the master control room.
I look around now, and those same people are still on the job. The longevity of many employees is a great testament to the quality of an employer.
Still, most of my newsroom co-workers were not born when I started at WRCB.  Back then, we used typewriters, videotapes, and reams of paper.  Today, we are almost paperless, and the clickety-clack of the typewriter has been replaced by the hushed clicks of computer keyboards.
In this digital world, all of our video is recorded on tiny cards.  These days, when I search for 1980s news footage on our old video cassettes, my younger colleagues stare as if I am holding Moses' stone tablets.
In the 1980s, we celebrated the purchase of a $500,000 satellite truck, which enabled us to broadcast live news stories from anywhere in the world, without the hassle of telephone lines.  Ironically, we now do those same remote broadcasts with a mobile telephone that costs about $500.  Meanwhile, that big ol' satellite truck is now a dinosaur that takes up a lot of parking space.
Technology is not the only thing that has changed.  When I began covering education, you could walk into any school as if you were entering a friend's house.  The front doors were wide open.  Police officers were seen only on Career Day. Why would anyone pose a threat to a school?
Sadly, a series of tragedies resulted in urgent calls for beefed-up security.  Police officers are assigned to most middle and high school campuses.  Doors are locked, and recently I stood outside one area school for about five minutes before I cracked the code on which buttons to push before I could get permission to enter.
Once inside though, I like what I see.  In my early days of School Patrol, computers had not yet replaced outdated sets of encyclopedias.  The chalky dust of blackboards was in the air.  Heating and air units that actually worked were considered a luxury.
Thankfully, in most schools, the technology is now first-rate.  Modern whiteboards are plentiful.  Most of the ancient buildings and their unreliable heaters and air units have been renovated and replaced.  I will admit though, I miss the creaky wood floors and classic auditoriums of the old days.
In thirty years of reporting news, I have met or covered five presidents.  I have "directed" a commercial with Bob Hope (well, I told him where to stand and what to say, so I guess that's directing). I was in on the early stages of what would become the Tennessee Aquarium.  I have reported on some enjoyable education and entertainment stories in New York, Los Angeles, Washington D.C., and Chicago.
On the other hand, some days have been anything but pleasant.  I have reported on hurricane damage in Charleston, South Carolina and tornado damage in Huntsville, Alabama.  I interviewed folks who rushed to their neighborhood churches on September 11, 2001.  They needed a place to mourn and pray.
I saw unbelievable damage in Ringgold, Georgia and Higdon, Alabama, about five miles from where I grew up, in the aftermath of the April 2011 tornado outbreak.  Less than a year later, I witnessed more devastation in the Harrison community of Hamilton County.
One quiet summer morning in July 2015, I was in the studio as details started trickling in about a reported shooting at a military recruiting center in Chattanooga.  When our worst fears were confirmed, that five men lost their lives, it was my duty to inform the public.
Sixteen months later, I was called to the scene of a Chattanooga school bus crash.  Like everyone else, I hoped the early reports of serious injuries were untrue.  As you know, it turned out to be worse than any of us could imagine.  The sight of parents and grandparents arriving to discover the fates of their babies was heartbreaking.  Our community is still reeling from the loss of six children.
In thirty years of any job, there are highs and lows.  I am honored to work for such a good company, with people I truly love.  From the age of 12, my dream was to be a broadcaster.  I am still living the dream, thanks to you.
Here is a poem from Channel 3 viewer Cindy Ellenbolt:
Dear David:
This little ditty is just for you!
Thank you so much for all you do.
30 years is quite a while,
To help folks and always smile.
The folks you saved in '93,
Still remember, including me.
You and Cindy are quite a team,
Always cheerful, never mean.
Many stories, yet to share
With a huge audience that always cares.
Looking forward to the news,
The future holds? We have no clue.
The mountain certainly can be proud
I'm sure you are it's favorite child.
By now this ditty's getting old,
The words that rhyme are getting cold.
So ending now, I'll simply say,
Congratulations on your day!
Here is a message from Channel 3 viewer Gracie Williams:
Hi David,
I wanted to wish you a Happy 30th Anniversary! I am Gracie Williams. I met you in Food City once and you gave me an autographed card and some Channel 3 pens. You were so nice. I love watching you on the news. You are SPECTACULAR on the news.
 I hope your Anniversary is great!
                                                                                                                                       Your friend,
Gracie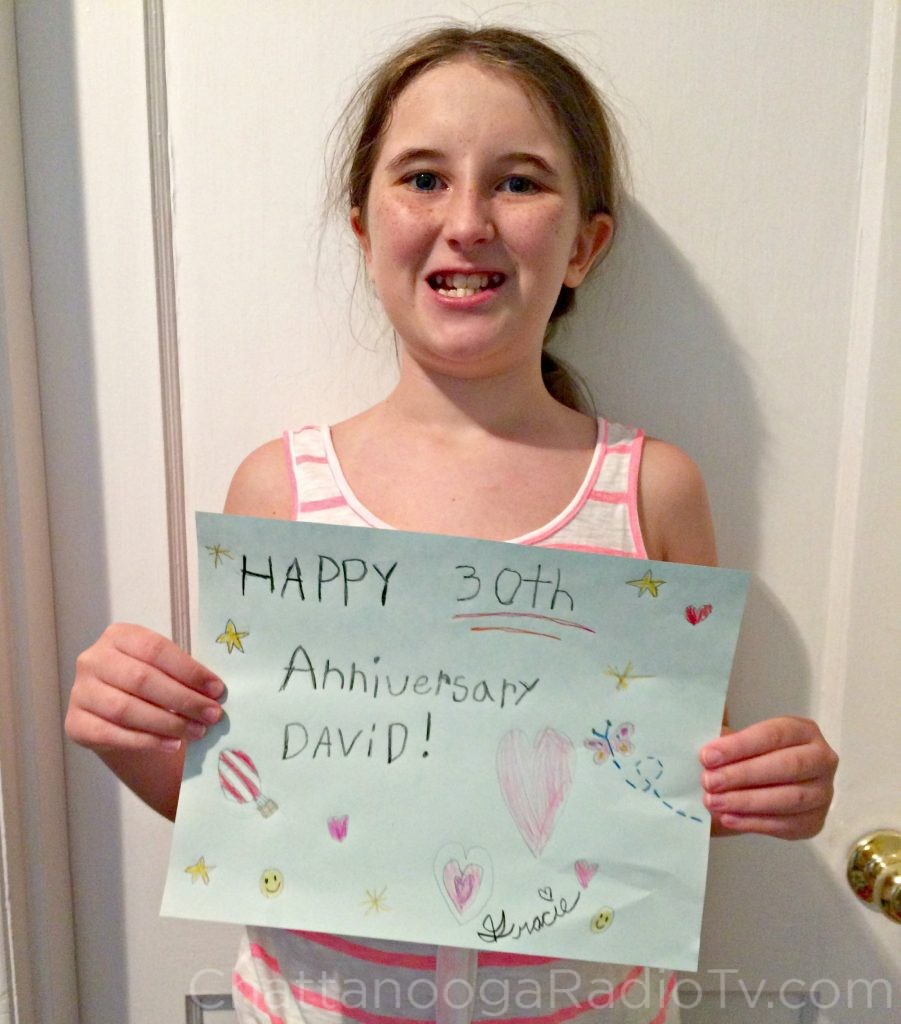 I attached a picture of me holding a drawing I drew for your anniversary