On the last day of school, Ed Carter called me with some big news: after 45 years at North Sand Mountain High School, he had just retired.  The longest-running teacher in that school's history (a record I'm betting will never be broken) stepped down quietly, with no fanfare.  Classy as always.  He knew this year's graduation, the school's 50th, would be his last.  "But it was the seniors' night," he told me.  "I didn't want to be a distraction."  He's ready to do more volunteering and traveling, and spend more time with his wonderful wife Barbara.  Why now? "No particular reason," he said. "I just think it's the right time."
That says a lot about Ed Carter.  He's the very definition of the term "old school."  It might be hard for the class of 2014 to imagine this 66-year-old veteran as a rookie teacher, but it's easy for me.  I was there.
In the fall of 1969, North Sand Mountain was in its fifth year as a high school, and was considered Pisgah's inferior little brother.  Those of us who lived in Bryant had a choice of high schools:  we could ride a bus just five miles away to NSM. The School Board simultaneously ran a bus 30 miles farther to Pisgah, giving in to popular demand.  Many Bryant residents had graduated from Pisgah, and wanted their children to do so.
My sister Elaine had started her great teaching career at NSM a little earlier, and encouraged me to enroll in 8th grade, to get a head start on high school.  Compared to Bryant, it was a tough crowd.  Some of the other 8th graders had been held back a year or two, and could cause some trouble.  On my first day, I got my first-ever paddling.  An elderly science teacher split up the students: girls on the left side of the room, boys on the right.  One of the boys was making noises, and when no one would admit to it, the teacher just lined up all the boys, and paddled us all.  Welcome to NSM!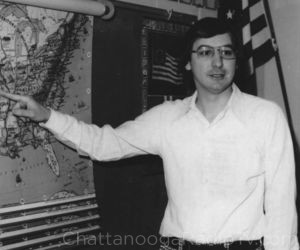 Meanwhile, a few classrooms down the hall, young Edward H. Carter was making his teaching debut at the age of 22.  Just four years removed from Section High School, and fresh out of Jacksonville State, he was off to a rough start.  Some of the veteran teachers were rather relaxed, permitting a casual atmosphere.  Discipline was spotty at best.  Tardiness was not uncommon, and there were plenty of class clowns to go around.  So after a few hours of "Welcome Back Kotter" style behavior, we entered Room 16 and had to deal with Carter instead of Kotter.
No nonsense.  No excuses.  No fun.  This guy was serious about teaching and learning.  This did not go over well.  Some of the older students tried to intimidate the rookie teacher.  Maybe with enough complaints, they could run him off.  I'd seen it happen before in our end of the county.  Some new guy comes in, starts enforcing the rules, and boom!  He was gone.  (If you had told me in the fall of '69 that Mr. Carter would still be at NSM in the spring of '70, I would've bet against that.  And if you'd told me he would be there for 45 years, I wouldn't let you drive.)
Most courageously, Mr. Carter took on some of the disgusting behaviors of that era.  It was not uncommon to hear certain racial slurs thrown around in public, and in the classroom.  Yes, it was inexcusable.  You can say we didn't know any better, or our parents didn't know any better, and in some cases you would be right.  But Mr. Carter wouldn't hear of it.  He had zero tolerance for bigotry, profanity or bullying.  Some of the older students, who were close to Mr. Carter's age, tried to bully the teacher.  He stood his ground.  Sadly, few students stood up for him, because that was not a "cool" thing to do.
The heat would reach a boiling point each May.  As graduation time neared, some of the slackers would express shock when they were informed they wouldn't get a diploma.  They had failed Mr. Carter's class, having missed numerous assignments despite his frequent warnings.  Mr. Carter wouldn't yield.  The outcry was predictable: students squealed, parents squealed louder.  "Just let him make up the work!"  But this teacher went by the rules.   He had standards, and the students of NSM had better start living up to them.
Some demanded change, and thankfully it soon came.  The tough young teacher stayed, and helped change the school culture.  During his 45 years, Ed Carter has taught thousands of students, including recent grads who are grandchildren of that 1970 senior class.  He has worked for every principal in the school's history.  NSM is a far better place, a nationally recognized school thanks to his influence.  Other teachers had to step up their game to keep pace.  After all, who wants to be known as "the easy teacher?"  No one will ever say that about Ed Carter.  He taught us our presidents (yes, I can still recite them, as can most other former Carter students).  He taught us how to behave, and taught us how to succeed in college.
I've long given him much of the credit for my career.  He was the teacher who got me excited about government, politics, history and current events.  Every day I work in journalism, I'm drawing upon those lessons learned in Ed Carter's classroom in Higdon, Alabama.
He is the common bond among NSM graduates.  Whenever I meet one, I always ask, "Did you have Mr. Carter?"  "Oh, yes," they'll say.  I'll respond, "Washington, Adams, Jefferson."  They'll say, "Madison, Monroe, Adams."  It's like our secret password.  And with a knowing smile, we agree we were blessed to have learned from the best.