Update, May 15, 2015:  Chris is in remission, and will graduate in the top 10% of his Central High class on Sat. May 16 at UTC Arena!
Previous story from Feb. 24, 2014: I attended a Shaving Party recently, my first ever.  Central High School in Harrison invited me, and I couldn't turn it down.  The principal is Finley King, who bleeds Pounder Purple.  During the past five years, he has restored the pride to a school that struggled through rezoning snafus and stiff competition from nearby magnet and private schools.  Central is a family again, and they are rallying around one of their own.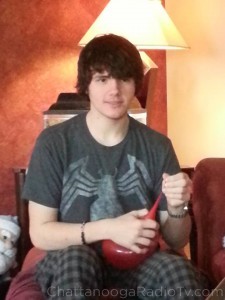 Chris DeRogatis is a junior, one of Central's brightest lights.  He reads every book they put in front of him, and has already scored a 27 on the ACT.  On  Valentines Day, he and his family got some bad news.  Five days earlier, he had discovered a swollen lymph node.  He hoped it would go away, but it didn't.  After tests and surgery, he and his family got the diagnosis: cancer.
He has Anaplastic Large Cell Lymphoma. It is a rare Non-Hodgkins form of Lymphoma.  Within days, he learned his cancer is Stage 3.  It isn't the worst, but it is far from the best.  He has started chemotherapy, which is scheduled for six months, depending on how he responds to treatment.  His junior year, at Central anyway, is over.  John Daum, a brilliant English and philosophy teacher who is also a great friend, will provide homebound teaching for Chris.  "I'm honored to do it," Mr. Daum said. "Here's this young man facing the fight of his life, and you know what he's worried about?  His diploma.  He wants to graduate on schedule, or early if he can.  And he's smart enough to do it, if he has the energy."
This all happened without warning.  A few days ago, his family and classmates were dealing with the mundane struggles we all face each day.  Go to work, go to school, make your grades.  Turn around and do it again.  Does that sound boring?  Oh, how the DeRogatis family would love to have that routine back today.
Those of us who have moved far beyond our teen years have fond memories of our 16-year-old hair.  It was thick, dark and plentiful.  On top of everything else, Chris realized that one of chemo's side effects is hair loss.  At first, he resisted shaving his head.  "I'm just going to let it fall out," he said.  "You can call me Patches."  Mr. Daum wouldn't hear of it.  "I'll tell you what," he said.  "You shave your head, and I'll shave mine.  We'll do it in front of the whole class."
Thus, the Central High Shaving Party began.  Two people became ten, ten became twenty.  One hour turned into two, one day turned into two, and we now celebrate dozens of slick, shiny scalps shaved over the course of a week.  Chris's friends, his teachers, the school resource officer, even kids he doesn't even know have sat in the makeshift barber's chair.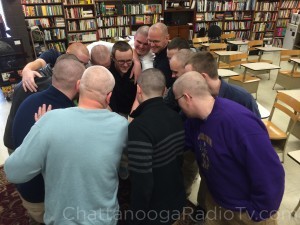 His sister and number-one fan Sammy, a senior, has quickly mastered the art of a cleanly shaved noggin.
She and other girls haven't yet gone for the full-Howie Mandel, but have shown solidarity by shaving the side of their head, quite stylishly.  Topping off the day, Chris's dad Craig got a clean shave, from Chris himself.
Two days later, on Thursday February 20, the Shaving Party buzzed on at Central, minus the guest of honor.  That was the day Chris endured his first full day of treatments, the first of many. The PET scan showed that he also had cancer under both armpits, in the left iliac crest – with chains to pelvis, left inguinal area, and a hot spot on the right groin.
He's had bone marrow biopsies, a lumbar puncture, and Hickman catheter/port inserted for his chemo treatment.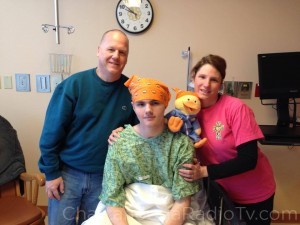 He is spending several days at TC Thompson Childrens Hospital.  If he feels like coming home for a day or two, then he will have to be readmitted in a couple of days.  It's the beginning of an aggressive six-month chemo cycle.  In the hospital for five days, and then home for a brief stay.  The cycle is then repeated.  This is one major battle.  But who better to fight it, than a young man whose Facebook banner reads, "I can and I will.  Watch me!"
Never have I seen a school so united, so quickly.  Word travels fast within a family, even one in which 900 teenagers of various races and socio-economic backgrounds reside within a large round building.  Some of the kids are staging a benefit concert.  Others are starting a hat drive, because their friend Chris is likely to wear plenty of hats in the days to come.  Mr. Daum knows what his star student really likes: books.
Chris reads books in many formats.  Old-school books and Nook books.  So Mr. Daum is making sure there are plenty of Barnes & Noble gift cards.  Chris has always believed reading is power.  With every waking hour, he's likely to be in his Nook, gaining ground on that diploma.
Yes, the diploma is Chris's goal, and according to the State Department of Education, it's why those 900 teenagers enter that round building each day.  But as he watched Chris DeRogatis' chrome-domed friends line up in the hallway, principal Finley King just shook his head in amazement.  "High school isn't just about the diploma," he said.  "It's a lot more than that.  These kids have learned a lot about life, and how precious it is. It's been a one-week crash course.  And now they're teaching us grown-ups that we're in good hands.  I couldn't be prouder of them."
You can follow the personal Facebook blog from Chris DeRogatis and his family.  Just go to https://www.facebook.com/Chrisderogatiscarepage and click "Like."