When I was growing up, WDEF-TV called its newscast "Tri-State Report."  I always liked that title, it was self-explanatory.  Folks like me, in the northeastern corner of Alabama, got their news from Chattanooga, as did my neighbors in northwest Georgia, just a skip and a hop away.  Somehow over the years, the term "tri-state area" was replaced by "the Tennessee Valley," although I don't know who made that decision. I guess it sounded more tourist-friendly.
Still, I'm proud of our three adjoining states.  I love something about all of them.  Yet until late 2015, I never entertained the idea of standing in all three states at the same time.  I guess somewhere in the back of my head, I realized there was a border where the three states joined each other.  I just never bothered to find out exactly where it was, until now.  Read on, enjoy the pics and video, and I'll share directions at the end of the story.
My friend Bill Peterson told me I needed to take a hike.  He had just returned from a field trip in which he found the marker that commemorates the exact spot where Alabama meets Georgia, which meets Tennessee.  He was kind enough to send his story, and those of other explorers who made the journey.
As you know, there was renewed interest in the Tennessee-Georgia border a couple of years ago.  Some Georgia state legislators claimed the state line was marked incorrectly, too far to the south. This had been done in 1818 by James Camak. He was a surveyor, hired by the state of Georgia to settle a dispute over state lines.  (Georgia became a state in 1788, while Tennessee established statehood eight years later). Camak, of course, used primitive equipment.  As surveyor Bart Crattie told NPR in 2008, the folks in the 1800's used "the heavens and stars" to mark the line.
There seems to be little doubt among modern-day experts that the marker is about a mile off the 35th parallel, which according to legal statute, is the actual line.  It should be, they say, right in the middle of Nickajack Lake.
Yes, all that water, just out of Georgia's reach.  But as currently drawn, it is a 200-year-old line, and unlikely to budge any time soon.
So in 2013, Georgia lawmakers claimed the true boundary line would enable Georgians to lay claim to Tennessee's abundant water supply.  Despite the outcry, and some well-researched evidence that seems to prove them right, the state line hasn't moved.  Apparently, the courts are reluctant to start moving state lines that have existed for two hundred years.  As surveyor Crattie told NPR, "Lord, if you started changing property lines, it would just be chaos."
About ten years ago, some interested parties found the spot, and were kind enough to create a small monument, and then drive it into the ground for all to see.  The key word is "small," about four inches in diameter.
Considerately, they placed bright orange surveyor's tape on some trees to keep people like me from wandering off the trail.  Even with their help, I pretty much stumbled on it, thanks to a white paper towel held in place by a rock.  I removed the rock, and there it was!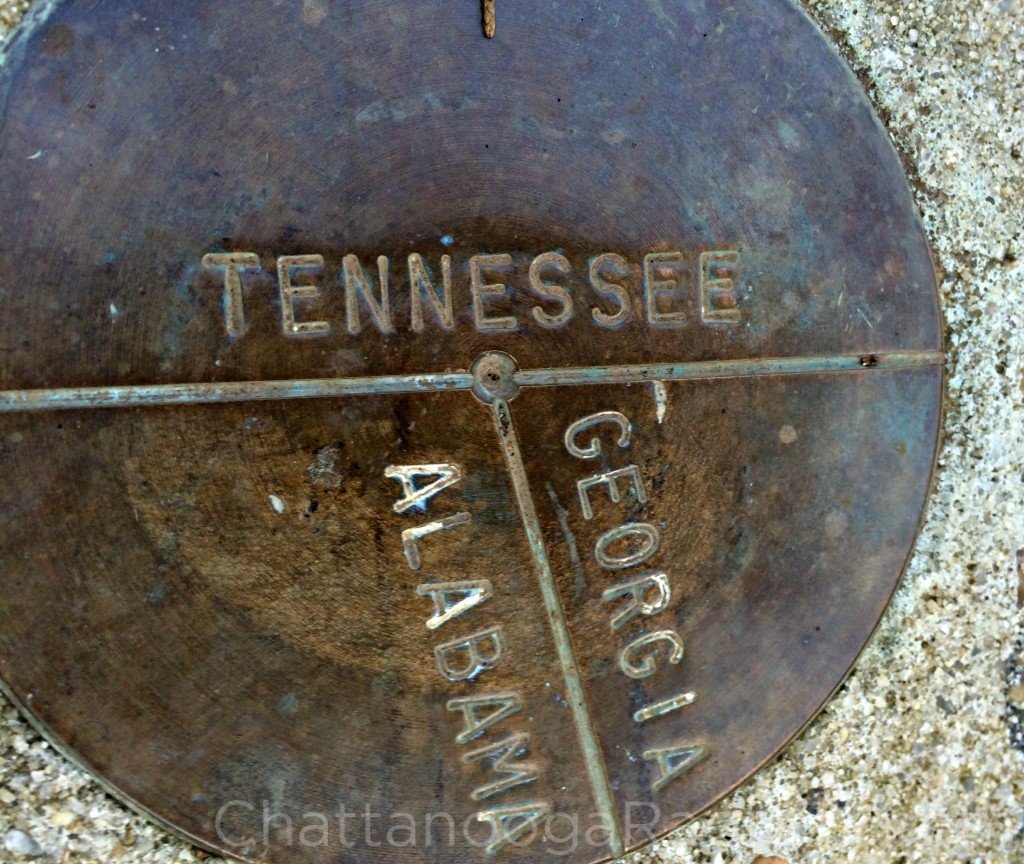 For the first time in my life, I was truly a tri-state guy. My left foot was in Tennessee, and the big toe of my right foot was in Georgia.  The heel of my right foot was in Alabama.  It was sort of like being a Volunteer Bama Dawg.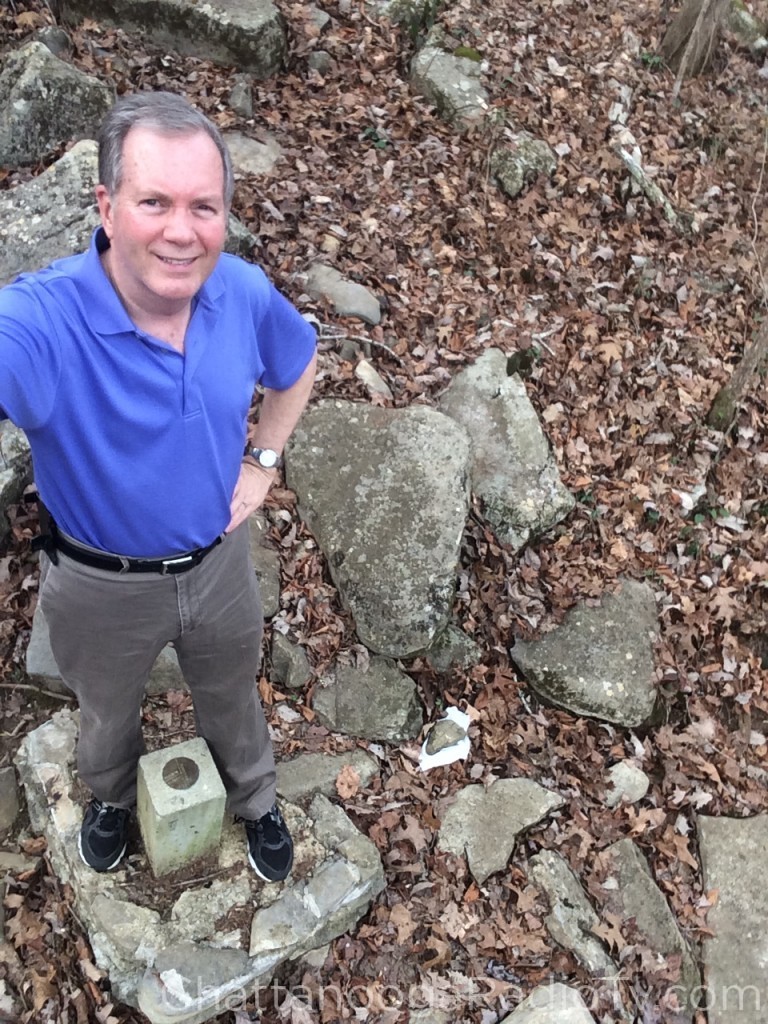 I was standing in one of only 38 such spots in the USA, where three states are so connected on dry land (23 are in the middle of rivers, streams or lakes). I'm told that more than 200,000 tourists a year visit the Four Corners monument, where the states of Utah, Arizona, New Mexico, and Colorado all meet.  I doubt more than a handful visit our little triangle, but I'm glad I did.
I was fortunate to go on a dry, comfortable December day.  I didn't have to deal with mud, weeds, poison ivy, snakes or other critters.  If you would like to stand in all three states, here are the directions:
From I-24, take exit 161 (Haletown/New Hope). Take TN-156 west (a curvy, winding road) 3.8 miles, then turn left on Macedonia Church Road. Go 7/10 of a mile, then turn right on Huckabee Road (it isn't marked, but it is just before you see several mailboxes on the left). Go 3/10 of a mile and park just beyond the Stateline Cemetery.  You'll see the beginning of a trail straight ahead.  Walk about 50-75 yards (estimated) and you'll see orange surveyors tape on some trees.  The marker stands about a foot off the ground, and lies just ahead of a natural stone formation.