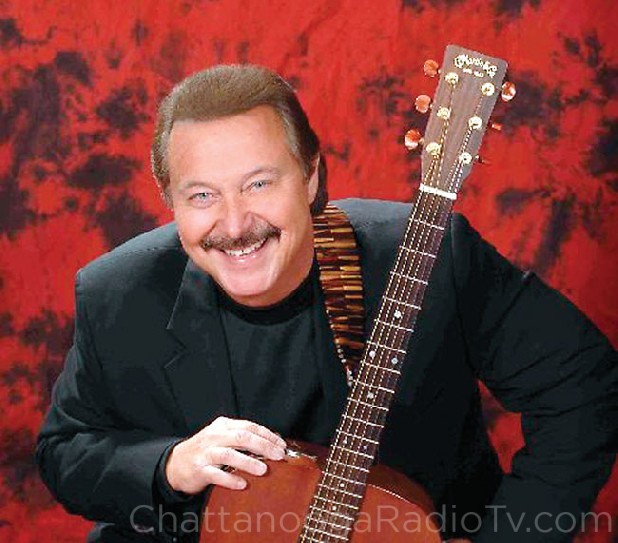 Talk about an unsung hero: how about James Rogers!
James is a humble fellow.  He has no idea I'm writing this story about him.  If he did, he would laugh and say, "You mean there's nothin' else goin' on in the world?"  Truthfully, there is.  This holiday season has worn me down with politics, scandals, and violence.  I have to talk about that stuff every day, and you are bombarded with it constantly.  That's all the more reason to shine a little light on a homegrown picker and grinner.
Last time I checked, there were no local roads, buildings, or highways named for our friend James.  For reasons that will always be a mystery to me, some government officials don't like to honor people while they are alive.  Thankfully, I don't have to walk that line.
James is very much alive, quite well, and incredibly generous.  He's a yes man if there ever was one, and I mean that in a good way.  James says yes each and every time he is asked to raise funds for his hometown, and other places near and far.  If the funds raised will benefit children, he will say yes even quicker.
During a career that has spanned more than forty years, he has picked up his guitar and sang to millions of satisfied listeners.  Never a frown, and no sign of any ego trips or temper tantrums.  Recently on UCTV's auction for the Sheriff's Department Stocking Full of Love, he was asked quite often to perform songs he hadn't sung in years.  You know what?  He strapped on his guitar, and sang them, flawlessly.
Like many of you, my friendship with James goes back many years.  I didn't know him when he was a kid, but he has often told the story of how that first guitar under the Christmas tree changed his life.  He was 11 years old, and there has been a guitar by his side ever since.
While working at filling stations, drug stores, factories, supermarkets, and construction sites, James would sneak away during breaks teaching himself to "finger-pick," classical style.  After high school and college, he planned to go to law school.  Several well-meaning adults told him he needed a real career.  He could still fool around with music on weekends, they said.  He was accepted by three schools of law.
We will never know what a great attorney he might have been.  As is so often the case, fate intervened and put him where he was supposed to be.  A Chattanooga nightclub needed a fill-in act for a couple of weeks, and James just happened to be available.  The "fill-in" guy became permanent, at least until the National Guard called.
After his service was over, James talked his way into an audition at the Chattanooga Choo Choo Station House, where he became a local legend.  As the featured attraction at the Station House, James did what we all aspire to do: he embarked on a career that allows him to say, "I've never worked a day in my life."  You can say that if you're fortunate enough to do something you love.
Along the way, he married his beautiful wife Debbie, and they raised two great children, Heather and Justin.  James gives Debbie much of the credit, because a performer's life is on the road.  For many years he shared America's stages with the biggest names in music, most notably Dolly Parton.
It was Dolly who saw such potential in James that she made him the marquee name at the Music Mansion in Pigeon Forge during much of the 1990s.  When I went to see his show there, I was lucky to get a seat.  It was another in a long string of daily sellouts.  I said to the lady at the box office, "I'm an old friend of James, but do the rest of these folks even know who he is?"  She said, "No, not when they get here.  But they do when they leave."  She added, "When people ask about his show, we tell them if they're not totally satisfied, they can get their money back on the way out."  I said, "Does that ever happen?" She said, "Never. Not once.  They keep coming back for more."
Now a proud grandfather, James has cut back on performing. Last week, he performed his annual Christmas show at the Colonnade. It wasn't the only thing happening in the world, but to me, it was the most joyful.