UPDATE, May 4, 2018: Nicole Compton of Chattanooga is the winner! She plans to donate the money for Puerto Rico hurricane relief.  Thanks to all who entered!
UPDATE: Sammie Welch has donated the entire tie collection of the great Don Welch!  You now have the opportunity to get 37 genuine TV anchorman ties for just $100.  Also, David Karnes has donated several ties from his collection, upping the amount of ties to 50.  I'll match your $100, so your favorite charity will get $200….and you get the ties!  Read more on how to enter below.  Winner will be drawn on May 1st!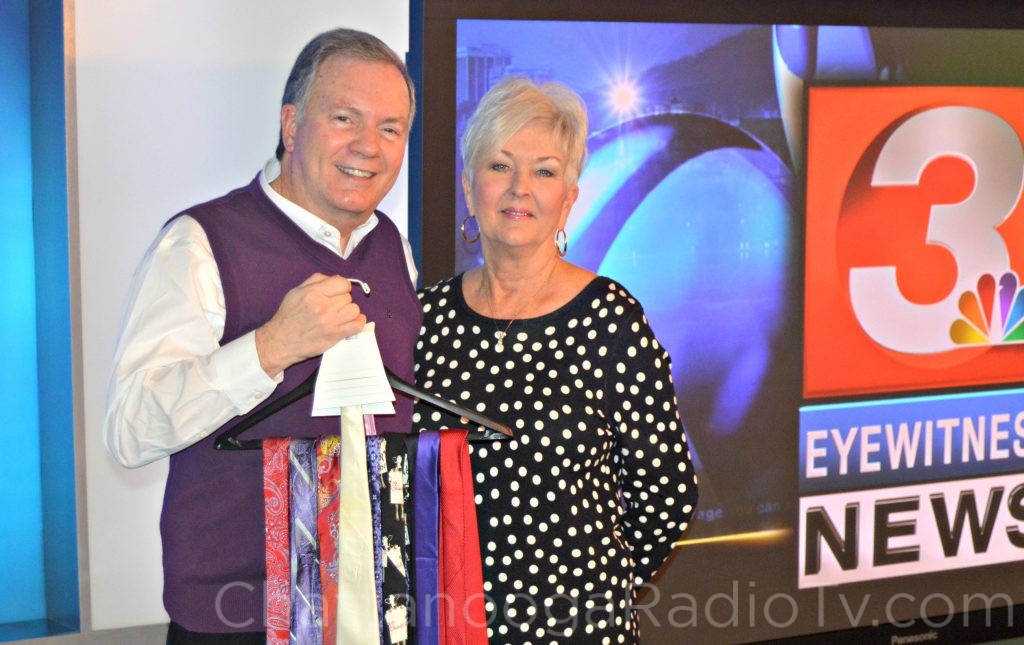 A few years back, a school district public information officer told a group of principals, "The way you look is more important than the words you say."
What? Did I hear that correctly?  In my opinion, nothing is more important than the words you use, especially if you're in a profession that requires honesty (which should pretty much be all of them).
Yet, we live in a world that values appearance.  If you're channel surfing, you'll flip to another channel if you're not attracted to what you see.  If you're online, you scroll through various websites or Facebook posts, in search of something visually appealing.
Those pretty faces you see on TV commercials and magazine ads? Believe me, they weren't chosen randomly.
I was introduced to this concept a little late in my career.  I started in radio, where a golden voiced announcer may be wearing a suit and tie in your mind.  In reality, he is often a disheveled guy who barely got out of bed in time to make it to work.
One day, I was having lunch with some radio pals.  We were wearing our daily radio uniform: t-shirt, jeans and sneakers.  We were surrounded by bankers, lawyers, and other suit-wearing sophisticates.  "Ha!" I exclaimed to my buddies.  "Those poor souls have to wear a tie every day!"
Famous last words.  Not long after, I was lured into the field of television, and have worn a tie every day, ever since.  Thirty-plus years of trying to tie the perfect knot, with the appropriate length.
What would happen if I (or any other news guy) just decided to ditch the tie? I don't know.  Nobody's brave enough to try it.
Quite often, we TV types get more comments about our apparel than we do about the actual news. Some days, I do some fairly decent journalism, and the first phone call I get is from someone saying, "That tie you had on tonight.  What were you thinking?"
It's even tougher for the ladies on the news set.  A hairstyle change, a new piece of jewelry, or a newly worn color are all subject to instant analysis.
But getting back to those ties.  I've gone through a few hundred in my career.  They go in and out of style.  In the 70s, they were wide enough to serve as a bib.  Every couple of decades, skinny ties make a comeback, as they are today.
My wife serves as my official dresser.  She takes pride in making sure my daily coat, shirt and tie are in some sort of sartorial agreement.  If she's successful, I'm less likely to get a cranky phone call or Facebook message asking if I got dressed in the dark.
I envy some of guys a few decades older than me, because they can wear anything.  If you're past a certain age, you can get away with so-called fashion no-no's.
I knew one older gentleman, who I'll call Mr. Fred, whose combinations got louder and weirder as he entered his nineties.  He would strut into church as proud as a peacock, and sporting more colors.  You might see him wearing a plaid jacket, a checked shirt, and a polka-dot tie.  A younger man might get accused of ordering from the Ringling Brothers collection, but this was just our Mr. Fred.
He was fastidious and prompt, so this ensemble wasn't slapped together at the last minute.  Knowing Mr. Fred, he laid it all out, got dressed, looked in the mirror, and gave himself a hearty thumbs-up.  I hope to live long enough for people to stare at my bizarre clothing combo and say, "You're looking sharp today, Mr. David!"
Having said that, Mrs. Carroll has been in spring cleaning mode recently, and has decided that 26 of my ties are ready to be moved out of the daily rotation.  There isn't anything wrong with these gently worn ties.  In fact, many days, they're on duty for only 90 minutes: from shortly before I go on TV, until the moment I'm off.
So if there's a man in your life who might enjoy an unusual gift for Father's Day, or a birthday, here's my proposal.  If you agree to pay $100 for all those ties, I'll put you in a drawing. If I draw your name, you write a check for $100 to your favorite charity (or church), and I'll match your $100. So, you get 26 "anchorman" ties for $100, and your favorite charity gets $200 (your hundred, and mine). If you would like to be in the drawing, contact me via regular mail (900 Whitehall Rd, Chattanooga, TN 37405) or email (dcties@yahoo.com) . The winner will be drawn and notified on May 1st.  Let's tie one on for your favorite charity!