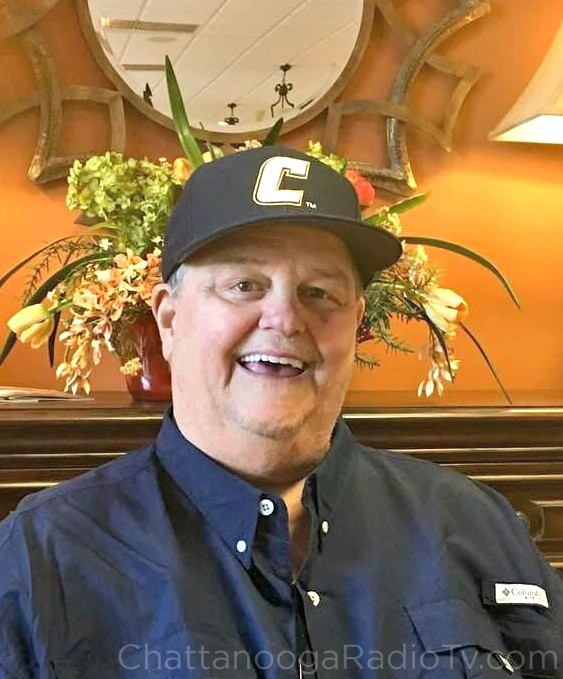 When my son Chris was a freshman baseball player at Red Bank High School, we were channel-surfing one night and started watching "Stump on Sports."  The conversation was about high school baseball, and soon focused on Red Bank's chances in the district playoffs.  Host Stump Martin, who had an encyclopedic knowledge of every high school athlete in every sport, rattled off the names of several players.  When he got to Chris Carroll, he said, "Keep an eye on him, that boy can hit!"
My fourteen-year-old boy's face lit up like a Christmas tree.  "He just said my name on TV. Stump said my name on TV!"
That scene was repeated in living rooms across the Tennessee Valley thousands of times over the past 36 years.  Stump was on more ball fields than the chalk on the baselines. If there was a ball being thrown, batted, passed, caught, or kicked, Stump was standing on the sidelines.
I first met Stump a few decades ago when we were softball foes.  His rag-tag crew would play my band of wayward disc jockeys on weekend afternoons.  Absolutely nothing was on the line, not even bragging rights.  There was no league, no concession stand, and few rules.  We struck up a fast friendship, and enjoyed kidding each other about our shortcomings.  I gave Stump a hard time about his lack of speed, and he would razz me about my lack of power.  When I stepped up to the plate, Stump would yell at his outfielders, "Y'all come on in, way in.  Now's a good time for a bathroom break if you need one."
For the past several months, Stump's health was failing.  As word spread that he had taken a sudden turn for the worse, friends gathered to pray, comfort his family, and raise money for medical expenses. Last Thursday we lost Stump, but Heaven gained the life of the party. He was a very youthful 64.
Deb, his wife of 43 years, beautiful inside and out, was always by his side. Daughter Misty and grandson Austin put the gleam in his eye. They are proud chips off the old block.
I will miss the lively conversations about every sport on his TV show.  Whether the school was public or private, and whether the sport was softball or golf, Stump had it covered. He could switch seamlessly from high school hoops to "rasslin," without missing a beat.
That story I mentioned about my son hearing his name on TV? Let me add this: if Stump was at your game, it meant something.  Kids would play even harder. It might look as if he was standing around shooting the breeze, but if the shortstop made a great play, or a wide receiver hauled in a long pass, we would hear about it on TV later that night.
It wasn't just for kids. When Stump spoke, coaches listened too.  Stump was a fine coach in his own right, and he made it his mission to help young people get scholarships. He let them know they were "student-athletes," and the word "student" came first. These modern-day success stories give Stump full credit for giving them the extra push they needed.
When you see pre-schoolers, pre-teens or high school stars on the fields of Rossville or East Ridge, particularly, they're enjoying first-class facilities that Stump fought for and helped upgrade and maintain.
Those of us in the news business also owe a great debt to Stump.  As a journalist himself, he was a great "tipper." I've had many a slow news day become more interesting because Stump shared a story idea with an old friend.  He also gave us access to his colleagues in city government when we needed their cooperation.  My former co-worker Matt Barbour speaks for all of us when he says, "Anytime I got the chance to interview or work with Stump Martin, it was a great day!"
Much like Tommy Jett, another north Georgia legend who we recently lost, Stump knew everyone, and they knew him.  It seemed like everybody either played ball with him, for him, or against him. He couldn't finish a meal without someone stopping by to swap stories about "that game" from years ago.  That made Stump smile.  He loved this area, our schools, and our people.
Linda Moore Pascal wrote on Facebook, "Stump was such a cheerleader for my boys when they were in sports." How true. We could all use a cheerleader in our lives, and Stump was happy to fill that role.
The Friday night lights will be a bit dimmer this fall. But the student-athletes will still make amazing plays, and the crowds will still cheer.  It will never be the same without Stump, but thanks to his good influence and hard work, we will still have a great time at the ol' ball field.
Visitation for Marvin "Stump" Martin will be held on Saturday May 12 from 2-8 p.m., and on Sunday May 13 from 1-7 p.m. at Heritage Funeral Home in Fort Oglethorpe, Ga. The funeral service will be Monday May 14 at 11 a.m. in the funeral home chapel.